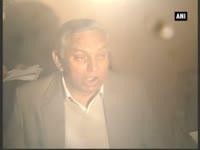 Congress spokesperson Janardhan Dwivedi faced a backlash from his own party member at a public platform on Thursday over his comment on Narendra Modi's victory in the Lok Sabha polls as a 'victory of Indianness'.
According to a Hindustan Times report, Congress leader Ajay Maken told mediapersons at a press conference in Delhi that the party was opposed to Dwivedi's views on Modi and that the high command would soon decide what action is to be taken against the party's spokesperson.
"Modi has been successful in convincing people that from a social point of view, he is closer to Indian citizens. His is a victory of Indianness," Dwivedi had said, in an interview to Rediff.
During the press conference, Maken raised questions about Dwivedi's views on "Indianness" and asked if the 2002 Gujarat riots, the riots in Trilokpuri and Bhawana and churches being vandalised, and hate speeches despite Delhi being under central rule, were signs of Indianness.
Reacting to Maken's comments, the Congress spokesperson too held a news conference and clarified that he was misquoted and misinterpreted. Dwivedi claimed that he spoke in Hindi and never mentioned Modi as a symbol of Indianness. He added that his quotes in Hindi were wrongly translated into English and published.
Hitting out at Congress leader Maken, Dwivedi said that he knew what "Indianness" means and did not need any additional lessons on it. He also said that he firmly believed that Congress was the only party to uphold Indian values.
The Congress spokesperson, in his interview on Wednesday to rediff.com, was quoted as saying that the victory of Narendra Modi in the 2014 elections was a "victory of Indianness" and the "beginning of a new era".
Despite Dwivedi insisting on being misquoted, Rediff stood by its report.
Dwivedi's is Congress' second spokesperson to have landed into controversy after former spokesperson Shashi Tharoor, who was removed from his post for praising the Prime Minister.