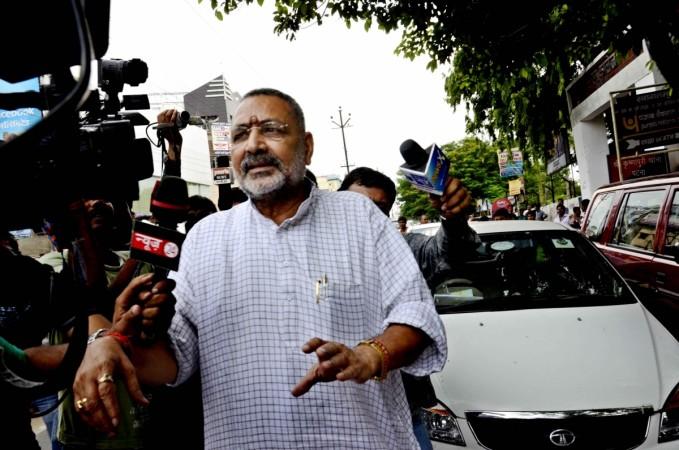 BJP leader Giriraj Singh, who has been no stranger to controversy, once again stirred up a hornet's nest on Tuesday by saying that Congress only accepted Sonia Gandhi as their president because of her fair skin.
"If Rajiv Gandhi had married a Nigerian lady and not fair-skinned woman then would the Congress have accepted her leadership?" asked Mr Singh, who is currently serving as minister of state in Prime Minister Narendra Modi's government. He has however apologised according to latest reports, saying that he regrets what he said if it hurt Sonia or Rahul Gandhi in any way.
Ahead of the 2014 General Elections last year, Mr Singh had said that people who did not want Modi to win would flee to Pakistan after he came to power. He had also indirectly attacked the Muslims by asking why was it that the problems were created by only one community?
Criticism has come pouring in from all corners after the BJP leader's remarks, reports NDTV.
Congress spokesperson Ajoy Kumar called it irrational and offensive and said that Mr Singh should apologise to the entire country. He also said that it was a deliberate pattern because BJP never took action against anybody indulging in such acts.
Randeep Surjewala, also a Congress member, said that Mr Singh was bordering on insanity.
CPI-M leader Brinda Karat called the comments shameful and condemnable. Ms Karat also said that she would like to know what Modi's 'Mann ki Baat' would be on this?
BJP leader and former IPS officer Kiran Bedi meanwhile said that Mr Singh's comments were a cause for concern and questioned her party colleague's wisdom.
Twitter was also flooded with reactions of Mr Singh's indiscretion, some of which are listed below.
Giriraj Singh's (MoS MSME) controversial remarks on Sonia Gandhi (31.3.15) https://t.co/CIYk47SnLE

— ANI (@ANI_news) April 1, 2015
I strongly condemn the derogatory remarks used by Giriraj Singh towards Sonia Gandhi: RPN Singh (Cong)

— ANI (@ANI_news) April 1, 2015
Dear @narendramodi ! Ur cheap minister Giriraj singh has passed an extreme derogatory nd racist cmment on Sonia Gandhi ! Pls promote him ! — कोमल :) (@Komal_Indian) April 1, 2015
If you say Giriraj Singh 'shocked' you, you are most likely a hypocrite! How can he shock anyone, anymore?!

— Jay Ambadi (@jay_ambadi) April 1, 2015
What is wrong with people?! Absurd comment by Giriraj Singh. Is this how MPs, politicians should speak? Really sad. #RacistMinister #sonia — Tavleen Singh Aroor (@Tavysingh) April 1, 2015