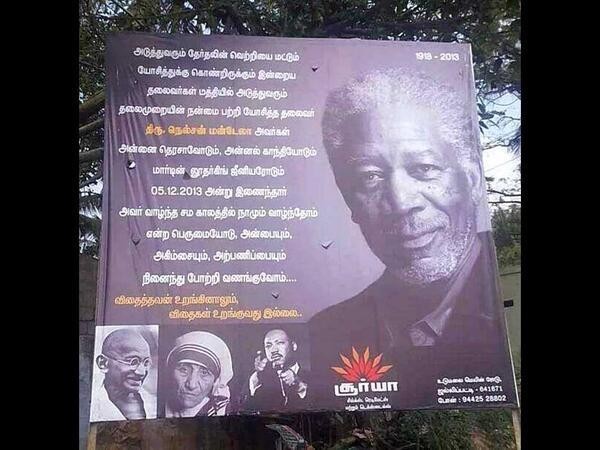 It can't be said with certainty whether it had to do with their similar looks or the fact that actor Morgan Freeman played the role of Nelson Mandela in the 2009 film "Invictus". But there are people who can't really tell the difference between the two men.
Confusion seems to be leading people into great embarrassment, with the latest case of a cloth merchant in Coimbatore, India, putting up a huge billboard paying tribute to Nelson Mandela but with the photograph of Morgan Freeman.
Identified as Chandrasekhar, the businessman landed up red-faced, when it emerged that the billboard paying tribute to Mandela carried a photo of Freeman along with other leaders like Gandhi, Mother Teresa and Martin Luther King.
There were similar cases of twitter users flooding the micro-blogging site with pictures of Morgan Freeman with emotional tributes paid to the anti-apartheid South African leader, without realizing that the pictures were not only of the wrong person, but also of someone who is alive.
Mandela, one of the most admired leaders of the world, died on 5 December in South Africa after a long battle with lung infection he had suffered from the days of his imprisonment in Robben Island