Bollywood superstar Salman Khan is back on the silver screen with Tubelight and the teaser of it has been released recently. While the actor's innocent avatar touched hearts, the Kabir Khan-directorial story is not new as it is based on Hollywood flick Little Boy.
After watching the teaser, fans speculated that the film is based on 2015's Little Boy. However, now it's confirmed that Tubelight's story is inspired by the Hollywood movie. The end credits of Tubelight teaser has mentioned that the film is based on Little Boy.
In Little Boy, a mountain-moving scene by a kid went viral and in Tubelight, Salman fills the little boy's shoe. While in the Hollywood movie the kid's father is in army, in Tubelight Sohail Khan is in the armed force. So, people can now predict the story of Tubelight very easily. And who have not watched Little Boy, it's time to download it now.
Chinese actress Zhu Zhu plays the heroine in Kabir Khan's Tubelight, while Sohail plays Salman's younger brother who was also a soldier in the Indian Army during the Indo-China war of 1962. The teaser shows the relationship between the brothers as well as Salman's bonding with a Chinese little boy.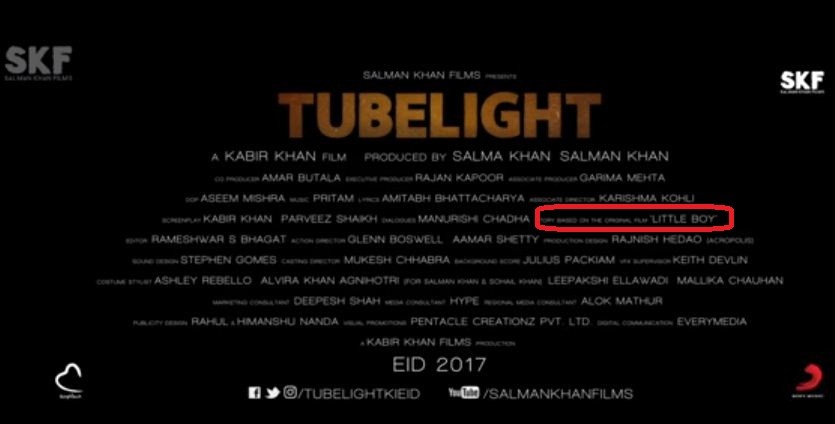 The concern is the Hollywood flick didn't do well at the box office; will the Hindi version be the same? However, it's a Salman Khan movie, so it's quite impossible that it will not work at the box office.
Watch the teaser here: