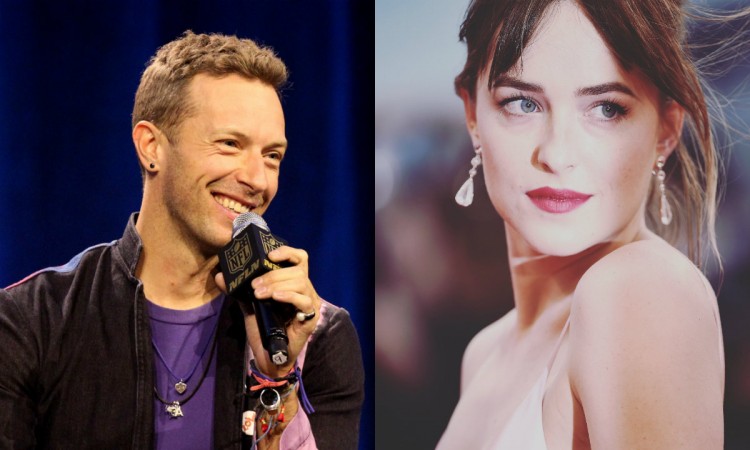 After weeks of speculations, Mail Online confirms that Dakota Johnson is indeed dating Chris Martin. The two celebrities were spotted flying out of Charles de Gaulle Airport after spending a few days together in Paris.
The UK news site reports that the couple reached the airport in the same vehicle but chose to leave separately before being escorted inside by the same security.
Giving numerous stars a run for their money, Dakota chose to sport a chic ensemble for her flight out of Paris. With a pair of sunglasses hiding her beautiful eyes, Dakota donned a mustard colour top under a tailored coat. She resorted to a pair of denims for the journey and completed the look with a pair of printed boots.
Letting her locks fall off her shoulder, Dakota sported a sling bang on one side while holding a newspaper.
Meanwhile, Coldplay lead singer chose to be a Man in Black. Trying to hide from the cameras, Chris was seen sporting a black jacket, with a woollen scarf wrapped around his neck and a Bennie cap over his head. A bag on his shoulder, Chris seems to be in a hurry to enter the premise.
Dakota and Chris sparked dating rumours back in October when the couple were pictured at a dinner date in LA. The onlookers told People that the two were alone and appeared to be getting cosy while "laughing" and being "affectionate" with each other.
The rumours grew in November when Dakota was photographed seated with the crew of Coldplay as the band performed in Argentina.
A source told US Weekly they are "definitely dating". According to the insider, "They've gotten to know each other really well and are very comfortable with one another. Chris sends Dakota his music to get her opinion. It's more than just a fling."
Martin was married to actress Gwyneth Paltrow from 2003 until 2014. They consciously chose to part ways. Meanwhile, Dakota dated Benedict Cumberbatch in 2013 and rocker Matthew Hitt from 2014 until 2016.