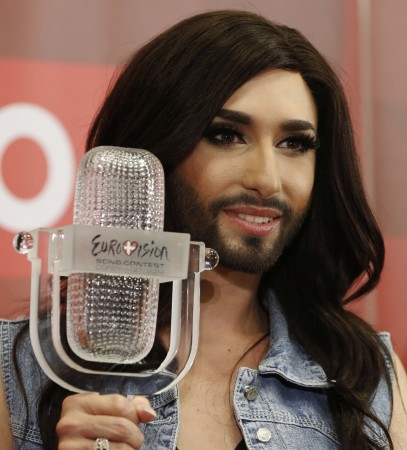 Russian politicians have used Austrian singer Conchita Wurst's Eurovision win to throw a spate of hate-filled attacks towards Europe's growing tolerance towards "strange" sexual expressions, such as the one Wurst portrays.
Soon after drag persona Wurst (real name Thomas Neuwirth) won the Eurovision Song Contest in Copenhagen, Russian state television held a talk show on her victory, where politicians and celebrities took up the opportunity to attack Europe's "degrading morals".
Vladimir Zhirinovsky, an outspoken ultranationalist MP, labelled the result as "the end of Europe" and said: "There is no limit to our outrage," the Mirror reported.
"It has turned wild. There are no more men or women in Europe, just it," he is understood to have said during the debate show.
Many countries with conservative leanings have tried their best to ban her performances and, to say the least, have condemned her drag persona.
Belarus' state broadcaster had received a petition from people to edit out Wurst's performance out of its Eurovision broadcast, back in October. The petition had claimed that the performance would turn Eurovision into a "hotbed of sodomy". A similar petition also surfaced in Russia in December, while an 'Anti-Wurst' Facebook page has more than 31,000 likes.
Similar petitions to have her removed or edited out of the broadcast also apperared in Armenia.
After Wurst's win, Dmitry Rogozin, the Deputy Prime Minister of Russia, tweeted a hate message, saying 'a bearded girl was the Euro-prospect.
"Eurovision" showed European integrators their Euro-prospect - a bearded girl pic.twitter.com/QHOvq1D1I1

— Dmitry Rogozin (@DRogozin) May 11, 2014
Wurst, who rose to fame after the bold step to transform herself to a cross dresser, has also become the butt of jokes elsewhere in Russia. One YouTube user, after watching her performance, commented: "Lol, I'm going to buy a dress and grow a beard and win the next ESC."
Speaking on BBC's Breakfast on Monday, Moscow correspondent Steve Rosenberg talked about Russia's reaction to Wurst's win.
"[They didn't take it] well at all," he told, as Mirror notes.
Rosenberg added that there was "the general mood of great criticism" during the live discussion, which aired shortly after the winner was announced.
Criticisms have been flying in, just as accolades, for Wurst who is one of the first transvestite artists who have come out and showed the world that they are not ashamed of being themselves.
But Wurst's win has generated quite a stir among those who have not come to terms with such forms of expressions and still consider it a taboo.