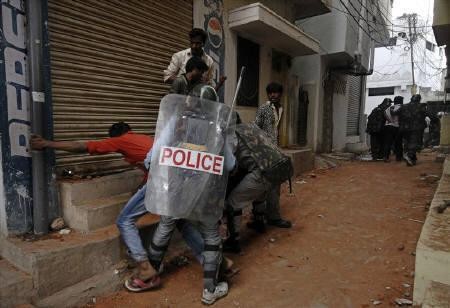 Communal clashes broke out in the Saidabad and Madannapet areas of Hyderabad on Sunday between two different religious groups, which led to the state government imposing an indefinite curfew.
Ram Navami and Hanuman Jayanti were celebrated on Friday without any reports of violence as the police force in large numbers was deployed across the state. However, miscreants exploited the time when the guards were off the roads on Sunday.
It all started when one of violent groups noticed burnt animal flesh strewn at religious places. The former group went on a rampage on its rival's street as the latter group allegedly insulted their community.
The first stone pelting incident was reported at around 7 a.m. And it was just a matter of time before the news of communal insult and incidences of violence swept the city. The community "patriots" gathered at street corners in large numbers across the old city and began attacking the other group. These clashes engulfed other areas as well.
At least a dozen people were reportedly injured in stone pelting and knife-attacking incidents. Many innocents sustained the wrath of the miscreant groups. However, there were no casualties reported. All the injured were rushed to nearby hospitals and are being treated.
Besides attacking people on streets, the violence also struck the city buses. About 18 buses were reportedly damaged on the Saidabad and Madannapet routes.
The city police who realized that situation was spinning out of control executed an indefinite curfew in Saidabad and Madannapet.
The clashes were contained after pressing the Rapid Action Force to tackle the unruly miscreants from different groups. Meanwhile, the state police personnel have been put on high-alert.