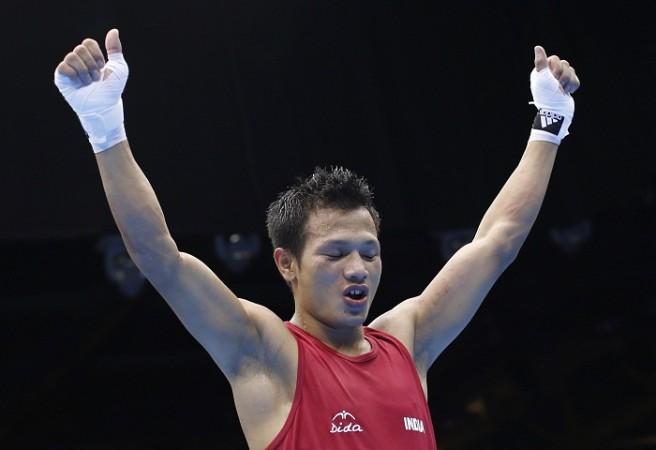 India displayed its dominating side on the ninth day of the Commonwealth Games, as four pugilists stormed into the finals to assure atleast silver medals for India at the Scottish Exhibition and Conference Centre.
Olympic bronze medallist Vijender Singh, L. Devendro Singh, Mandeep Jangra and L. Sarita Devi won their respective bouts in a dominating fashion on Friday. However, Pinki Jangra settled for bronze, after losing her last-four match against Northern Ireland's Michaela Walsh.
Vijender put up a strong performance against Northern Ireland's Connor Coyle and won the contest 3-0 in the middleweight category. The 28-year-old landed clear winners on Coyle and provide no opening to win all three rounds.
"There is never an easy fight and I don't underestimate my opponents," Vijender said. "I will now prepare for the final bout."
Mandeep, however, rallied back after losing the opening round to clinch the contest 2-1 on split decision. After losing the first round 9-10, the Indian recovered and won a close second round 10-9 to tie the contest. Mandeep stormed back in fine style in the third and booked finals berth.
In the light flyweight category, Devendro was at his dazzling best and completely outplayed Ashley Williams of Wales 3-0. The Welshman was forced to defend all the time and the Indian pugilist landed a fury of punches to clinch the bout easily.
Sarita, meanwhile, continued her impressive run and faced no competition from Mozambique's Maria Machongua. Machongua was mostly hiding behind Sarita and the Manipuri boxer outpunched her opponent in a lopsided encounter.
"She was hiding under me and I thought this woman does not want to do boxing. So I laughed during the bout," Sarita said. "This is the first time women's boxing is there in the Commonwealth Games and I want to win the gold. So I have to prepare well for the final."
Meanwhile, in track and field it was a mixed day for India as defending discus throw champion Krishna Poonia finished a disappointing fifth but Seema Punia clinched silver medal. Seema's 61.61m effort was enough for silver, while Dani Samuels won gold and Jade Lally took bronze.
In men's double table tennis, the pair of Achanta Sharath Kamal and Anthony Amalraj had to settle for silver after losing to Ning Gao and Hu Li of Singapore. Kamal-Amalraj squandered a one game advantage and went down 11-8, 7-11, 9-11, 5-11.
In women's hockey, India finished fifth beating Scotland 2-1 in a playoff match at the Glasgow National Hockey Centre. Indian eves withstand strong offence from the hosts initially and broke the deadlock in the 53rd minute through Anupama Bala.
India's joy was short lived as Scotland equalised minutes later, when Nikki Kid scored on a penalty corner. But Poonam Rani sealed the fifth place for India by scoring a field goal in the 57th minute.