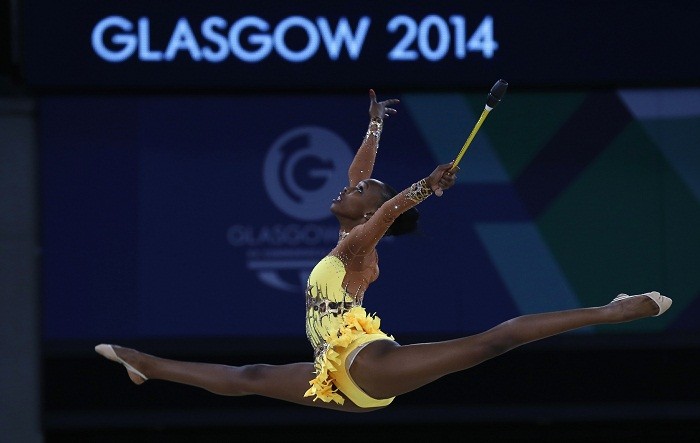 India tasted impressive medal success on the opening day of the Commonwealth Games with seven athletes winning a medal each in five different categories.
The 20-year-old Sanjita Khumukcham was the first one to open India's medal account by winning gold in the 48 kg weightlifting category, with Mirabai Chanu Saikhom picking up silver in the same event.
Sanjita lifted 77 in snatch and 96 in clean and jerk for a total of 173 kg while Mirabai lifted 75 in snatch and 95 in clean and jerk for a total of 170 kg.
Remarkably, Sanjita jumped from 72 kg to 77 kg in snatch propelling her to the first position with Mirabai successfully claiming the double for India despite failing in her first two attempts at lifting 75 kg.
The duo, coached by Arjuna awardee Kunjarani Devi, hardly faced any competition from the Nigerian Nkechi Opara who placed third with a total of 162 kg (70+92).
In the men's 56 kg category, Sukhen Dey, 25, bagged gold by lifting a weight of 109 kg in snatch and 139 kg in clean and jerk for a total of 248 kg.
"I would like to dedicate my win to the nation, the federation officials and my coaches. The exposure we got before the Games has been of immense help. We have had a training camp in Birmingham since June and that has helped a lot." said Dey, who then went on to try and lift 146 kg to break the Commonwealth record, but was unsuccessful.
Fellow Indian Ganesh Mali, who eventually picked up bronze, was leading the competition with his 111 kg lift in the snatch but got a little unlucky towards the end as he fumbled during his clean and jerk attempt and managed to lift just 133 kg in his second attempt to finish with a total of 244 (111+133).
The Indians faced tough competition from Malaysians Baharom and Mohd Pisol Zulheimi with the latter having claimed the silver medal with a total lift of 245 kg (108+137).
Mali, an army man, has an athlete brother who will be participating in the 94 kg category at the games.
"My brother and I have had only one barbell between us for six years. It'll be a big deal taking home the bronze medal," he said.
Meanwhile, in the Judo event, Shushila Likmabam and Navjyot Chana won a silver each in their respective categories with Kalpana Thoudam winning bronze in the women's 52 kg category.
Chana, beat South African Daniel Le Grange in the semifinals of the men's 60kg category while Shushila beat Australian Chloe Rayner in the semifinal of the women's 48kg category to claim silvers.
Sushila placed second due to two penalties that she picked up against Australian Kimberley Renicks who went on to claim gold.