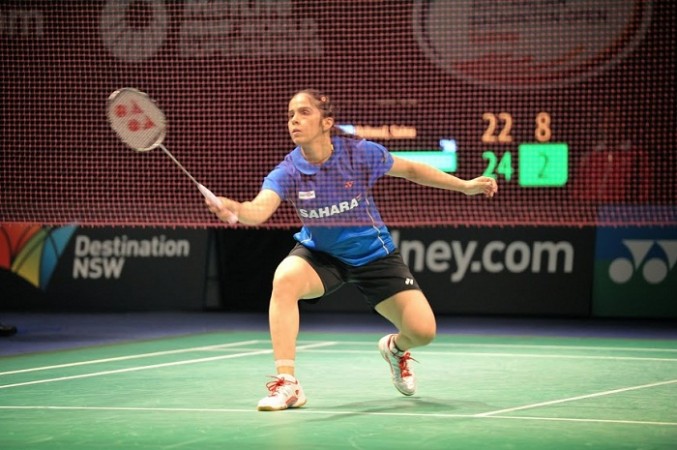 The high hopes that Jwala Gutta had pinned on fellow shuttler Saina Nehwal to win atleast one gold at the Commonwealth Games ended up being futile after the latter pulled out of the tournament, citing grave injuries.
"I did start practicing and I hoped that I could still go and play, but then I didn't want to exert myself too much. I don't want to risk an injury again. I have to be fit for the rest of the season. There are two more important and equally big tournaments coming up next -- the World Championship and Asian Games. So I had to take a call," said Nehwal, who took the last minute decision to give her body enough time to recover for the Asian Games.
The Olympic bronze medalist, who won gold at the previous games held in Delhi, was one of India's biggest medal hopes, with the entire weight now shifting onto the shoulders of 19-year-old shuttler, PV Sindhu.
"I know I am a favourite at Commonwealth Games. I am the defending champion but I still have to play and give my 100 percent to win the title. In sports, it is difficult," Saina added.
Another disappointment came in the form of World no.1 shooter Jitu Rai not having qualified in the 10m rifle event and will not get a chance to represent India at the games.
Rai apparently did not do his best until the cut off date for the qualifiers had passed.
"It's amusing that I'm world No. 1 but not in the squad for air pistol. The [selection] policy was such that whoever shot the best up to the selection trial was selected, and I did well only after that. But it doesn't matter, I'm going to compete there and I'm not disappointed," said Rai.
"I am very strong in free pistol too. I get a great feeling from shooting that event. Air pistol has only lately become my strongest event." Asked what had stopped him from getting selected ahead of P. N. Prakash and Om Prakash in air pistol, armyman Rai had an interesting story to narrate.
"I had shot well in the free pistol, and then did well on the first day of air pistol too. But on the second day, I was going on leave. Now being in the army, I hadn't been home for a long time, so I was very excited and eager to finish up and leave. My mind got distracted because of that, and I could only shoot 576," stressed the ISSF world cup gold medallist.
Not to be bogged down by the unfortunate event, Rai wishes to maintain his composure and concentrate on future events.
"I have trained well for the CWG and my ultimate focus is obviously on a medal at the World Championships in Granada, Spain," he concluded.