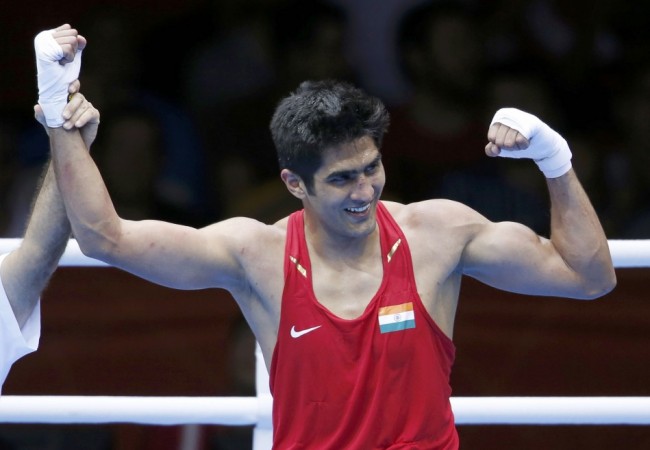 The fifth day of the Glasgow Commonwealth Games will see Indian boxers Devendro Singh, Shiva Thapa, Vijender Singh and Mandeep Jangra take to the ring at the Scottish Exhibition and Conference Centre.
All four Indian pugilists will be competing in the Round of 16 in a bid to reach the quarterfinals in their respective categories. Manoj Kumar and Sumit Sangwan have already booked their last-eight berths on the fourth day in light welterweight and light heavyweight categories respectively.
Devendro will face Sri Lanka's Madushan Gamege, while Thapa will be up against Northern Ireland's Michael Conlan in the next match. Conlan, who defeated Matthew Martin in a one-sided affair, insisted that beating Thapa is not going to be easy.
"I'm back in the ring on Monday fighting against an Indian who is number three in the world and I'm number two so I think that will be my toughest test in the Games," said Conlan.
Olympic bronze medallist Vijender will be up against Namibia's Mujandjae Kasuto in the pre-quarterfinals, after dispatching Andrew Kometa in the opening contest.
The 28-year-old stressed that he is aiming to reach the final after missing out in Delhi 2010 four years ago.
"First bout is always tough and I am happy I won it. I am hoping for the best and will go step by step. I am hoping to at least reach the final," Vijender said.
Vijender, who is one of India's medal prospects in the multisport event, said he performed quite well in the last bout and will be putting his best foot forward against Kasuto.
The 2006 Commonwealth Games silver medallist said he is looking forward for a potential meeting with England's Antony Fowler and aiming no less than gold this time, after missing out on two occasions.
"Antony Fowler is a good boxer I'll be waiting for him," he said. "I hope to meet him in the semifinal or final. I am going to try my best to win the gold. I have bronze and silver already so I hope this time to reach the final and hopefully win."
Jangra will face Kestna Davis of Jamaica in a bid to reach the quarterfinals of CWG 2014.
Schedule of Play: Round of 16
Men's Light flyweight: Madushan Gamege vs L Devendro Singh starts 5:45 pm IST
Men's Bantamweight: Shiva Thapa vs Michael Conlan starts 5:50 pm IST
Men's Middleweight: Vijender Singh vs Mujandjae Kasuto starts 6:35 pm IST
Men's Welterweight: Kestna Davis vs Mandeep Jangra starts 11:45 pm IST
Where to Watch Live
The boxing action is scheduled for a 1:00 pm local time (5:30 pm IST) start with live coverage in India is on Ten Sports and Ten Action, with the live streaming option HERE and HERE. The action will be available live on CBS Sports in Canada with online streaming option HERE.
BBC will telecast the games live in the United Kingdom, with live streaming option HERE or follow the updates HERE. Network Ten will broadcast the Commonwealth Games live in Australia with an online viewing option HERE. For International viewers, including the United States, the action will be available live on official Commonwealth Games 2014 YouTube channel for free HERE.