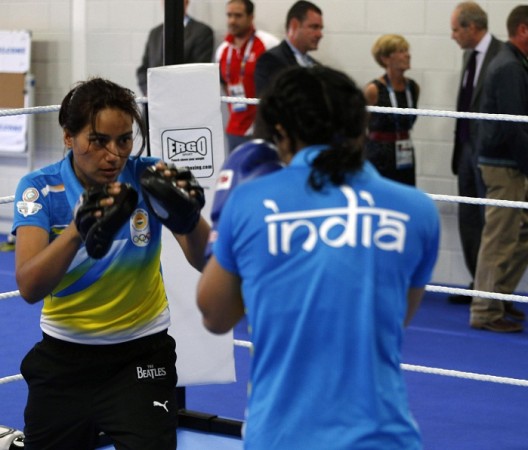 Indian weightlifters will again take the stage on Friday after providing a golden start on the opening day of the Glasgow Commonwealth Games, while boxers will commence their campaign in super heavyweight and welterweight categories.
India clinched seven medals on the opening day, with three coming from the weightlifters, including two gold medals. K Sanjita Chanu and S Mirabai Chanu demolished the field in 58 kg category and fought out for gold, with the latter just missing out in the end due to a foul.
"It doesn't matter who won the gold as the gold went to India," Sanjita said. "We are happy to have won the first medals for India."
Indian contingent will be hoping for a same spirited performance from their two lifters - Swati Singh and Matsa Santoshi - in the 53 kg weight category today. These two are heading as medal prospects for India but are expected to face stiff competition from rest of the field.
Santoshi is a former Asian Youth Weightlifting champion and also won a bronze in the Asian Championships in 2011. On the other hand, Swati is a seasoned campaigner and finished fourth in last CWG in Delhi. She also won gold in the Senior National Weightlifting Championships.
Meanwhile, two Indian pugilists Parveen Kumar and Mandeep Jangra will be action on the second day. Parveen, who is competing in the super heavyweight, will be up against homehope Ross Henderson, while Mandeep will lock horns with Mozambique's Augusto Mathule.
Indian boxers will be aiming to stamp their mark and let their punches do the taking in the bouts, after the administrative mess that surrounded them in past few months.
Last time, in front of home crowd, the Indian pugilists finished with seven medals, including three gold and four bronze, and will be hoping to match this tally with 10 boxers competing in the event.
Among the current lot, only Olympic bronze medallist Vijender Singh and Manoj Kumar were part of that group. However, Vijender is confident that the Indian boxers will give their best in the quadrennial event.
"No matter what the circumstances, we are prepared for everything," said Vijender, who will be competing tomorrow against Andrew Kometa in the first round in 75 kg weight category.
Schedule of Play
Boxing: The Boxing action will start at 5:30 pm IST at the SECC
Parveen Kumar vs Ross Henderson (+91 kg) 6:20 pm IST start.
Augusto Mathule vs Mandeep Jangra (69 kg) 11:30 pm IST start
Weightlifting: The weightlifting action will start at 8:00 pm IST at Clyde Auditorium
Women's 53 kg category: Swati Singh and Matsa Santoshi 8:00 pm IST
Where to Watch Live
The day's action is scheduled for a 9:00 am local time (1:30 pm IST) start with live coverage in India is on Ten Sports, with the live streaming option HERE and HERE. The action will be available live on CBS Sports in Canada with online streaming option HERE.
BBC will telecast the games live in the United Kingdom, with live streaming option HERE or follow the updates HERE. Network Ten will broadcast the Commonwealth Games live in Australia with an online viewing option HERE. For International viewers, including the United States, the action will be available live on official Commonwealth Games 2014 YouTube channel for free HERE.