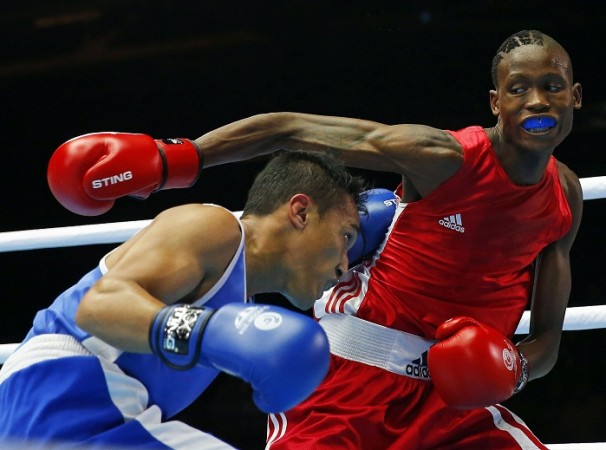 Indian athletes will be aiming to increase the medal haul on the fourth day of the Glasgow Commonwealth Games, after clinching seven medals on Day 3.
Shooting has always remained India's stronghold in the Commonwealth Games and, this time as well, seven out of the 15 medals - including three gold - were won by the shooters.
The shooters will be hoping to keep their good form going in the double trap events lined up for the fourth day, with four Indians competing in the men's and women's double trap qualifications.
The Indian boxing contingent, led by Olympics bronze medallist Vijender Singh, has made a flying start in the competition as Manpreet Jangra, Vijender and Manoj Kumar have cruised to the second round.
Manoj seemed to have dominated the bout against Mokhachane Moshoshoe of Lesotho, although the 10-9 decision given by the judges suggested that it was a close contest. However, Indian coach Blas Iglesias Fernandez insisted that it was a one-sided match.
Manoj and Sumit Sangwan will take the ring today in the Round of 16 and coach Fernandez stressed that the Indian pugilists need to remain cautious if they are to surge ahead in the event.
"When you fight against weaker opponents, you have to take care that you don't injure yourself," Fernandez said. "Moreover, there is no headgear used in boxing. So you have to be careful and should not get injured early in the tournament."
The Indian shuttlers will also be in action against England in the semifinals of the mixed team event, after defeating Canada 3-1 in the last game. PV Sindhu failed to win her singles tie and her form will be crucial if India are to win gold in the competition, as they could potentially face Singapore or Malaysia in the final.
In table tennis, the country's women paddlers are up against Australia in a bronze medal contest, while their male counterparts will face England in the semifinals, and a win today will ensure atleast silver for them.
Indian athletes will also be competing in other events, such as men's shot put (Om Prakash Karhana), swimming (Sajan Prakash) and lawn ball team and individual events.
Schedule for Day 4:
Athletics: Men's shot put qualification - Om Prakash Karhana 8:10 pm
Badminton: Mixed Team event Semifinal - India vs England 11:00 pm
Boxing: Round of 16
Men's Light Welterweight - Manoj Kumar vs Arthur Biyarslanov 6:15 pm
Men's Light Heavyweight - Sumit Sangwan vs Mohammad Fumu - 12:10 pm
Cycling (Track)
Men's Keirin First Round - Amarjit Nagi
Women's 25km points race finals - Sunita Yanglem
Lawn Bowl: Men's Fours - India vs South Africa - 4:00 pm
Men's Singles - Sunil Bahadur vs Muhammad Hizlee Abdul Rais 10:00 pm
Shooting: Men's and Women's Double Trap Qualification - 2:30 pm
Players - Ankur Mittal, Asab Mohd, Varsha Varman and Shreyasi Singh
Swimming: Men's 100m Butterfly heats - Sajan Prakash 4:15 pm
Table Tennis: Team's events
Women's Team Bronze medal match - India vs Australia 2:00 pm
Men's Team Semifinal - India vs England 11:00 pm
Where to Watch Live
The day's action is scheduled for a 9:00 am local time (1:30 pm IST) start with live coverage in India is on Ten Sports, with the live streaming option HERE and HERE. The action will be available live on CBS Sports in Canada with online streaming option HERE.
BBC will telecast the games live in the United Kingdom, with live streaming option HERE or follow the updates HERE. Network Ten will broadcast the Commonwealth Games live in Australia with an online viewing option HERE. For International viewers, including the United States, the action will be available live on official Commonwealth Games 2014 YouTube channel for free HERE.