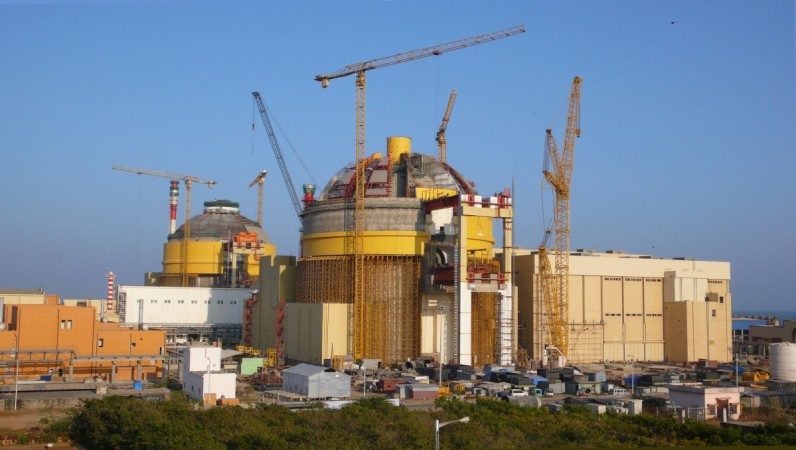 The 1,000 MWe reactor of Kudankulam Nuclear Power Plant, which has been synchronised with the southern grid, started generating electricity commercially at 12.01am on Wednesday. The nuclear plant commenced at midnight after the proponent of Kudankulam Nuclear Power Project (KKNPP), Nuclear Power Corporation of India Limited (NPCIL), approved the commercial power generation on Tuesday evening.
"Yes... We've received the nod from our high command for commencing the commercial power generation 12.01 am onwards," The Hindu quoted KKNPP site director RS Sundar as saying.
The nuclear plant reactor reached at its normal operating condition on 13 July, 2013 and was synchronised with the southern grid on 22 October, 2013.
Thereafter began the power generation, which was gradually increased amidst mandatory tests stipulated by the Atomic Energy Regulatory Board (AERB) and attained its maximum capacity on 7 June, 2014.
Months before the officials at the power plant decided to start the first unit of KKNPP for commercial purpose, some damage occurred in the reactor. A component in the reactor got unhinged and hit the first and second stage turbine blades and diaphragm at high velocity, causing extensive damage.
Ever since the damage, the reactor was partially active for experimental purpose as the damaged parts were being replaced with those of the second unit of the plant. As the KKNPP is active from 31 December, Tamil Nadu will get 562 MWe power at ₹4 per unit.
Apart from Tamil Nadu, Karnataka will purchase its share of 133 MWe power, Kerala 133 MWe and Pondicherry will get 34 MWe power.
The construction of the Kudankulam Nuclear Power Plant began at the nuclear power station in Kudankulam in Tamil Nadu's Tirunelveli district on 31 March 2002 at a cost of over ₹17,000 crore for the two units with the assistance from Russia.