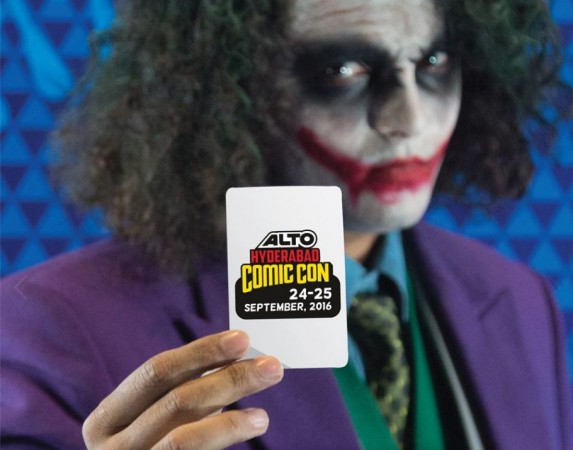 Comic-Con India, which will start in Hyderabad next month, is going to be full of surprises for fans of comic books, movies and television series.
Followers and cosplayers will finally get an opportunity to meet others who are like-minded and have similar interests, as Alto Hyderabad Comic-Con will organise a Superhero Speed Dating Cosplay Party on Aug. 27. The event is being held in partnership with the dating website, TrulyMadly.com, in association with Hoppipola.
So if you are looking for that one person who can understand your passion and love for all things superhero, this is the right place. Grab your mask and cape and head to the party to have an adventure of a lifetime.
HIGHLIGHTS
Cosplay and enjoy two free drinks.
Meet your perfect match with the speed dating activity.
Speed dating participants enjoy one free drink.
Participate in fun pop quiz activities and win awesome Comic Con Merch.
Details
Date: Aug. 27, 2016 (Saturday)
Time: 8:00 p.m. onwards
Venue: Hoppipola
Plot 1 & 2,
Rohini Layout,
Opposite Shilparamam,
Hitech City, Hyderabad
Compulsory Registration: ​http://bit.ly/2b5C1iA​
Speed dating Process:
•It is compulsory to register for the speed dating activity. Register here - ​http://bit.ly/2b5C1iA​
•The activity is on the basis of first-come first-serve only. After getting registered, one would be required to come to the venue early on the event day to ensure participation.
•No inappropriate behaviour will be tolerated.
Important Instructions:
•The free drinks for the cosplayers are subject to good quality cosplay.
•Club rules apply. No underage person will be served alcohol.
•Entry to the event is free. Only people interested in the speed dating activity require to pre-register for the event.
The Alto Hyderabad Comic Con 2016 will entertain the audience at Hitex Exhibition Center on Sept. 24 and 25, 2016. Comic Con India is part of the ReedPop family of events, which is dedicated to producing world-class celebrations of popular culture, with events like New York Comic Con, Oz Comic Con, Shanghai Comic Con and Star Wars Celebration.
For more info about the event :
http://www.comicconhyderabad.com/
www.facebook.com/comicconindia
Book your tickets to Alto Hyderabad Comic Con here: http://bit.ly/28Vdplo