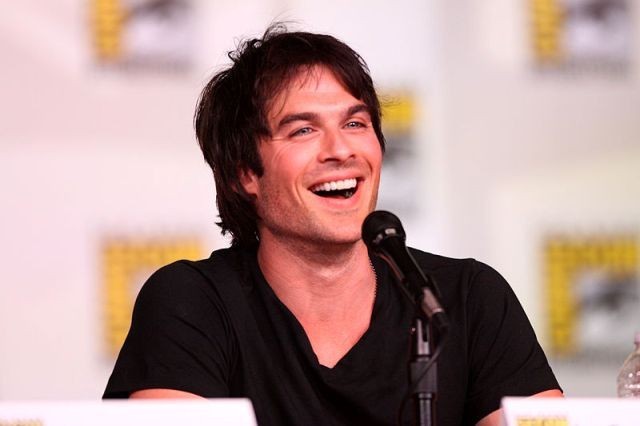 Ian Somerhader might be dating Nikki Reed in real life, but on Thursday, he reunited with his former lover and "The Vampire Diaries" co-star Nina Dobrev to accept the "Ship of the Year" award at mtvU Fandom Awards.
Somerhalder and Dobrev, who essay the roles of Damon and Elena in "The Vampire Diaries," spoke about the tumultuous relationship their characters have undergone in the past few seasons, via satellite.
"We want to thank you guys for all of your love and support of Delena," Dobrev said in her acceptance speech, according to HollywoodLife.
Meanwhile, Somerhalder added: "Our ship has been through some ups and downs and we are not sure where we would be without your support. So thank you, and we will try to keep it interesting for you."
The two beat out the likes of other on-screen couples such as Katniss and Peeta from "The Hunger Games" series, Dean and Castiel from "Supernatural," Stiles and Derek from "Teen Wolf," and Sherlock Holmes and John Watson in "Sherlock."
Similar to their on-screen character, Dobrev and Somerhalder, too, have had many ups and downs in their relationship, with many reports speculating that the two would get back together sometime in the near future.
But these rumors came to an end recently, when Somerhalder was seen out and about with "Twilight" actress Reed at a LA Farmers' market on July 20.
Eyewitnesses told media outlets that the two were engaging in public display of affection.
"Nikki and Ian were totally into each other at the Farmer's Market and weren't shy at all about showing their affection for each other," a source told HollywoodLife.
"Ian was playing with her hair and they acted like a couple. They were watching the animals at the petting zoo and laughing. They both bought lots of different fruits and vegetables. They both looked really happy," the source added.
However, Somerhalder addressed the new romance rumors through a cryptic message stating that everything is not as it seems.
"Ummm, everyone- I hate to break it to you but… You have zero clue what really goes on in other peoples' lives. It does you or anyone else any good at all to project negative energy out there," the 35-year-old wrote on Instagram in a post that has since been deleted.
"There is no harm here, I ask you to back off with your negativity, focus that energy elsewhere In a positive manner and let people live their lives. It's only fair. Thank you and good night."