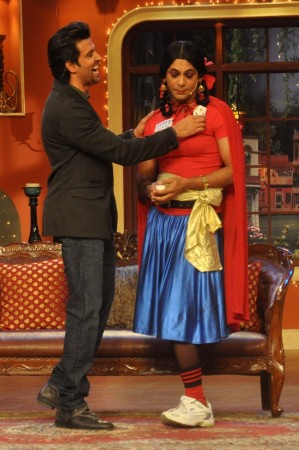 Gutthi, of "Comedy Nights with Kapil" played by actor-comedian Sunil Grover is likely to quit the popular and most watched comedy show.
According to the reports, Sunil Grover and the producers of the show (K9-SOL Productions) have decided to part ways due to monetary issues.
Gutthi has become one of the popular characters in the show along with daadi, bhua and palak. Gutthi's comic timing, songs, dance moves and the introduction part has impressed the audiences.
But if reports are to be believed, the actor has bid adieu to the popular show. Sunil demanded a hike in his fee, which did not go well with the show's production house.
His absence in the last episode of the show which featured Ranveer Singh and Deepika Padukone added fuel to the fire.
"He is happy that his character of Gutthi was accepted and loved so much by the audience. He (Sunil Grover) won't be part of the show due to prior commitments. It is less likely that he would return to the show," sources close to the development told Press Trust of India.
But, Grover refuted the monetary issue and instead said that his contract with the show has come to an end.
"Kapil is a dear friend and an absolute delight to work with. I have absolutely no problems with him. My contract with the show was over and I had to leave the show due to prior commitments," Grover told Subhash K Jha.
Sources close to Grover have cited some other reasons for the actors exit from the show. A source close to the actor has said that his popularity was not accepted by many people associated with the show.