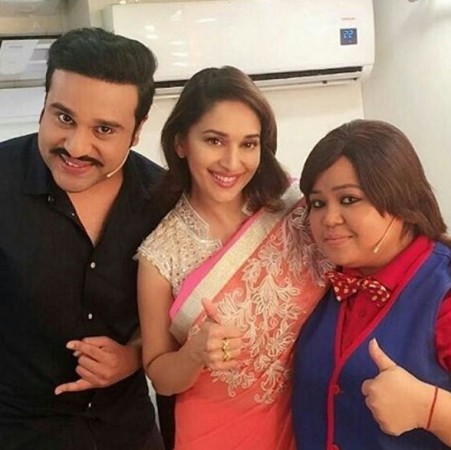 Krushna Abhishek's new show "Comedy Nights Live" is being trashed on Twitter by viewers a night after he said Kapil Sharma felt "insecure" and ran away from the battlefield.
He took over Sharma's turf on Sunday night, and the result was dismal. While some said it was a "nightmare" to watch the new guy emulate what his predecessor did best, others just branded it as plain boring.
The promos too are more or less digs at "Comedy Nights With Kapil". This move could either cost the channel dearly or turn out beneficial. Meanwhile, Navjot Singh Sidhu has been replaced by Mika Singh.
Apparently Sidhu agreed to be part of the show but didn't show up on the day he was supposed to sign the official papers. "Rather than waiting for him endlessly, we decided to bring in Mika. He is witty and takes jokes sportingly. He was the guest on the inaugural episode of Comedy Nights Bachao and it rated high on the charts," India Today quoted a source as saying.
The first episode had Abhishek fool around with guest star Madhuri Dixit Nene. The show will see Sudesh Lehri, Bharti Singh, Upasana Singh and Rashami Desai play key characters.
Below are some burns for the new host which will take time to heal:
Ankita Mehta: #ComedyNightsLIVE is a torture... repeat telecast of sasural Simar Ka and other saas bahu shows would be more interesting thn CNL
Paresh Rawal: Sudesh, Krushna r talented.They did great in few season of Comedy Circus.. #ComedyNightsLIVE could work if they bcm less vulgar & repetitive
Pooja: Tried to watch #ComedyNightsLIVE but literally got headache! Krushna seems to be in great hurry, trying too hard. FLOP!! Missing Kapil(sic).
Rahul Pathak: @KapilSharmaK9 within 5 minutes of #ComedyNightsLIVE I could see the real difference between comedy and tragedy. #CNWKForever
Punjabi Blood: i watched #ComedyNightsLIVE now i hv a reason to die WTF I JST WATCHED (sic).
Inspirational Words: #ComedyNightsLIVE PATHETIC Show Heights of low standards Insulting others can't get you success.Downfall begins on very first day!
Chirag Gupta: Rather than respecting the team of #CNWK in the 1st episode of #ComedyNightsLIVE they try to bring them down? Hypocrisy at it's best!
Dharmesh: The difference between the old version and new version of the show is same as difference between Sholay and RGV ki Aag #ComedyNightsLIVE
Kapilholic: Sorry @ColorsTV i underestimated u..i thot there can't b a worst show than #SasuralSimarKa u proved me wrong n created #ComedyNightsLIVE
90's Bitch: I saw my Taiji smiling on @Krushna_KAS jokes on #ComedyNightsLIVE i askd her did u really find it funny. She said, no i feel pity for him!