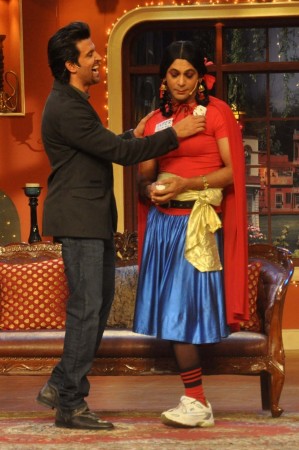 Popular TV show "Comedy Nights with Kapil" (CNWK) could witness the return of one of its most loved characters, Gutthi.
Played by Sunil Grover, Gutthi became one of the most popular characters of "CNWK" with his funny antics and garish cross dressing appearance. But in the peak of the character's popularity, Grover quit the show putting the fate of Gutthi in question. While several actors were auditioned for the part, none were roped in.
Grover went on to portray an uncanny version of "Gutthi" called "Chutki" in a different show "Mad in India" (MII), which was pitted against "CNWK." But the new show as well as Grover's portrayal of Chutki failed to impress the audience and was eventually called off.
Now that "MII" has been scrapped, there is a strong buzz that Grover could get back to "CNWK". While it would certainly be a delight for the audience to have Grover back on the show, they can't help wondering if he will don Gutthi's role or will appear in a new avatar.
"Kapil wished Sunil luck when he decided to break away. Now, he is happy to have him back. However, if he returns as Gutthi or as another character, remains to be seen," a source informed The Times of India.
Ever since Grover exited the show, reports of tension between the actor and "CNWK" host Kapil Sharma did the rounds. It was alleged that ego clashes between the two as well as monetary factor led to Grover's ouster from the popular show. But over time both have dismissed tension reports and referred to each other as friends.
Sharma, earlier this year, had even extended an invitation to Grover to return to "CNWK" as he said that the actor should not have left the show in the first place. He had stressed that the success of the popular show depended on the collaborative effort of a team and not just one person.
When asked to react on Sharma's invitation, Grover had told Hindustan Times at that point: "I haven't really thought about it (the offer). After it (MII) is over, will decide what to do..."
Meanwhile, "CNWK" is already on a high note having garnered 10 million likes on its Facebook page. The show, which is a year old now, has seen a steep rise in its popularity over the months. At such a point, the talented Grover rejoining the cast would act as impetus to the comedy show.