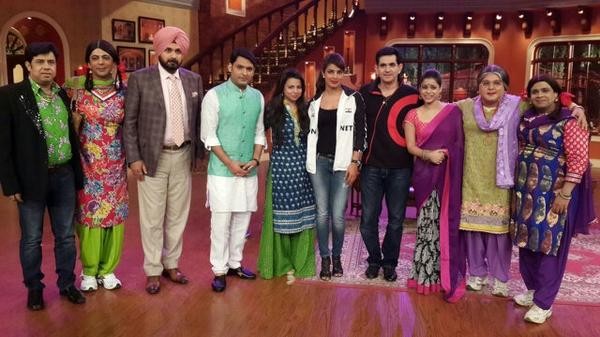 Popular comedian Kapil Sharma's "Comedy Nights With Kapil" is all set to take a broader platform.
The most loved television show that airs on Colors channel, will soon fly to Dubai for a live event. The move has come after the show received increasing demands from overseas audiences.
"On public demand, the entire cast and crew will travel to Dubai early next month and perform live in front of the audiences there," a source from Colors channel told India Today.
Apart from the stand-up comedian who plays the role of Bittu Sharma and other characters from the show, including Dadi, the character played by Ali Asgar, Gutthi (Suni Grover), Bua (Upasna Singh) and Kapil's wife Manju (Sumona Chakravarty), even singer Shaan, Mika Singh and popular television actors, Shweta Tiwari and Roshni Chopra are expected to join the team for the special episode.
Additionally, some Bollywood actors whose presence are almost like a tradition in the show, are likely to feature in the Dubai episode, thus making the live show a grand event.
"The cast of one of the upcoming movies might also fly down to be a part of this live event" the source added.
"Hitherto, we have been shooting in a studio, but in Dubai we will have a live event as well as gags performed at malls, in the desert safari and other places. The idea is to take the show outdoors. Already, we have started shooting bits like Gutthi and I buying bangles in a shop, the servant Ramu selling samosas in the show. However, this special episode in Dubai will be exciting. There will be also be some celebrites." said Kiku aka Palak to Bollywood Life.
"Comedy Nights With Kapil", which is set on a crazy family, has gained immense popularity within a short period of time.
Sharma's tongue-in-cheek humour and his onscreen family who indulge in a lot of pranks, not only amuze the audience sitting at home, but even the celebrity guests on the sets.