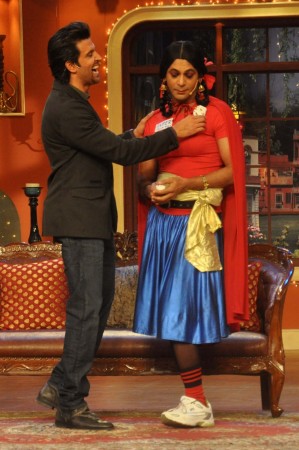 Ending the much-speculated return of Sunil Grover aka Gutthi on "Comedy Night with Kapil", reports are now that Grover have rejoined the show.
Grover who shot to fame after playing the character "Gutthi" on the TV show, mostly because of his funny antics and cross-dressing appearance, chose to quit the comedy show during his peak of the popularity and make a platform for himself. While several actors were auditioned for the part, none were roped in.
"CNWK" is already the most popular show on television with over 10 million likes in Facebook, and with Grover's rejoining the cast would surely boost to the comedy show to another level.
Grover, will soon be seen in one of the upcoming episodes, not as "Gutthi", but as Sharma's father-in-law, reported Times of India.
Post quitting "Comedy Nights With Kapil", Grover was seen in another comedy show, "Mad In India", where he played an uncanny version of "Gutthi" called "Chutki". But the show as well as "Chutki" failed to meet the audience expectation and were eventually called off after low TRPs.
Soon after MII was scraped, speculations raised if Gutthi would return to "CNWK", rumors had it that there were ego clash between Grover and the producer of the show and host, Sharma as well as monetary factor that led to the actor's exit. But over time both the actors dismissed reports and referred to each other as friends and dont mid working together in future.
Comedy king, Sharma, earlier this year, had even requested Grover to return to "CNWK". He had stressed that the success of the popular show depended on the collaborative effort of a team and not just one person.
Whether Grover's character is restricted to Sharma's father-in-law or other roles is not known, but a source stated that, "It's something that remains to be worked upon. He will be seen as Kapil's wife Sumona's father in the first episode. We are expecting him to play various characters like before."