Madenoor Manu has won the second season of Zee Kannada's Comedy Khiladigalu Season 2, which was aired on Sunday, June 24, at 6 pm. Appana from Ramdurga and Suraj from Mangaluru have ended as the runner-up.
Manu has won Rs 5 lakh prize along with the trophy, while Apanna and Suraj will get Rs 2 lakh each.
Appanna, Manu Madenoor, Mantanna, Sadhanandh, Suraj, Vani Chenaraya Patanna, Surya, Barkath Ali, Chidambar Raunchier and Raghu had entered the last stage of the reality show.
Zee Kannada had conducted auditions in 30 districts in Karnataka and over 15,000 applications had shown interest to participate in the reality show. The team had selected 15 members for the second season.
The grand finale, which witnessed by more than 25,000 people, was held at Dr B R Ambedkar Bhavan in Vijayapura on June 17. The show was kicked off at 5 pm and it ended at the wee hours of Monday. The winner has not been revealed yet.
The show's host Master Anand thrilled the viewers by performing to popular retro numbers and the judges – Yogaraj Bhat, Rakshita and Jaggesh – too entered the stage through performances. The major attraction was Raju Thalikote, who tickled the funny bones of the audience with his popular skit, Kaliyugada Kuduka.
Jaggesh shared the stage with Thalikote for the skit by impersonating his character from the movie, Eddelu Manjunatha.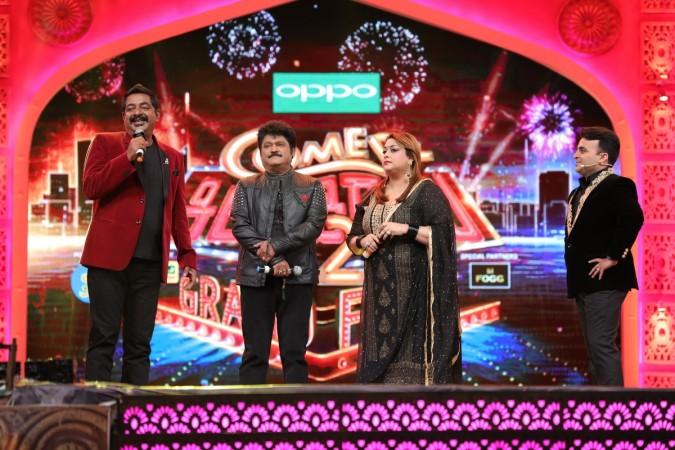 Commenting on the grand finale, Raghavendra Hunsur, Business Head, Zee Kannada said, "Comedy Khiladigalu has proved time again to be our viewers' favourite weekend show, thanks to the hilariously fantastic performances by our talented participants in the last two seasons. It is said that laughter is the best medicine and the second season's grand finale proved that this show is truly a stressbuster! I hope our audiences enjoyed the show as much as we enjoyed making it. We hope to be back soon with something bigger, that will be nothing short of fantastic!"
The winners were decided from the viewers' votes and the marks given by the judges on 50:50 percent basis.
It may be recalled that Shivaraj won the first season, while Nayana ended up in the second place.