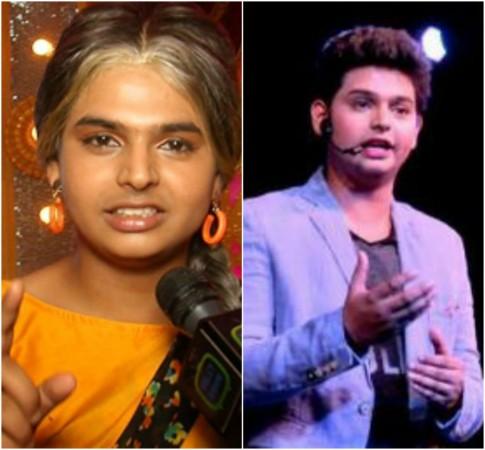 Stand-up comedian Siddharth Sagar a.k.a Selfie Mausi who has featured in shows like Chhote Miyan Bade Miyan, Laughter Ke Phatke, Comedy Circus Ke Ajoobe and The Kapil Sharma Show has been missing for 4 months.
Reports suggest that his parents are not traceable which left Siddharth's friend Somi Saxena with no choice but to upload a post on Facebook regarding the situation. She wrote: "You guys remember him Siddharth Sagar aka selfie Mausi urf Naseer this guy is missing since 4 month last seen on 18 November 2017. Nobody knows where he is. He is my very good friend please help me find him spread this as much as u can."
However, she later deleted the post. Why?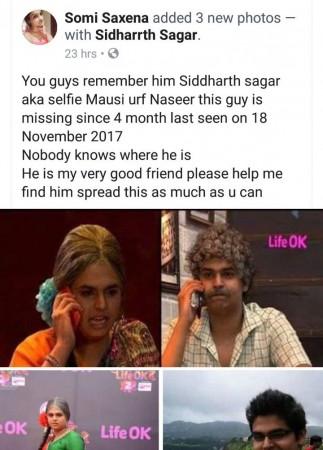 A leading website spoke to Somi and she said: "The post was to pressurize Siddharth's mother to make me speak to him, and hence she took to Facebook. But last night after Siddharth's mother made me talk to him, I pulled down the post. Siddharth told me that he's fine and that he will meet me in two days."
SpotboyE.com also spoke to Siddharth's mother and she said that he was suffering from dengue and hence he's been out of action. Reportedly, the mother refused to make them speak to Siddharth. Later when the website tried to reach Siddharth's father, he contradicted his wife's statement.
According to SpotboyE.com, Siddharth's parents are not together anymore, as per the rumors. However, when the online publication spoke to Siddharth's father he refuted all rumors saying that there are no cracks in their family and later also rubbished the claims made by his wife.
Let's wait and watch if Siddharth meets Somi two days later.