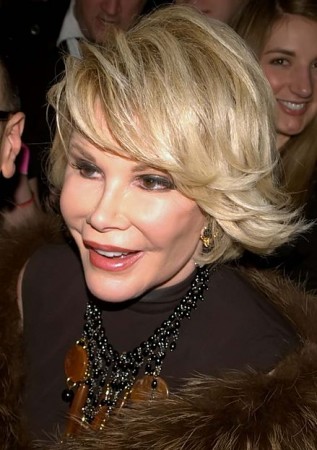 In a shocker and never-before-heard comment, Joan Rivers has called US President Obama a "gay," while describing the First Lady Michelle Obama with a homophobic slur, a new video doing rounds in the internet shows.
The American actress and comedian, who is no stranger to controversy by any standards, reportedly made those comments to reporters, when she was asked by a journalist on the street about her appearance in a bookstore in New York City, where she officiated a gay marriage between two of her fans, the Gossip Cop reports.
The journalist asked Rivers whether she believed the United States would ever see a gay president and the 81-year-old replied: "We already have it with Obama, so let's just calm down."
The video shows Rivers starting to walk away before adding, "You know Michelle is a tranny." When the bewildered reporter asked her to confirm what she had just said, Rivers added, "A transgender. We all know."
The controversial video came only a week after Joan Rivers was mired in yet another controversy, where she was reportedly threatened to be sued for passing a joke on actress Kristen Stewart.
She was reported on 23 June to have told Steward that her career success is based on having sex with directors.
The comedian told media that her new book, "Diary of a Mad Diva," has actually led Stewart making such a move.
Rivers was also rebuked from the Anti-Defamation league in 2012 after likening Costco to Nazi Germany, when the story refused to sell her book, reports Hollywood Reporter.
Here are few reactions on Twitter to the comedian's latest comment on President Obama and the First Lady.
If Joan Rivers is saying it... Obama - Gay; Moochie - Transgender....she's liberal and loud...must be true, eh? http://t.co/INrOrgPHLY

— Reid Lowery (@reidlowe) July 4, 2014
"First gay president? We already have one. Obama." - Joan Rivers, making the greatest political comment of the year. — Jerm (@mynameisjerm) July 4, 2014
Now that Barack and Michelle Obama hate @Joan_Rivers, I love Joan Rivers #tcot

— Mitch Behna (@MitchBehna) July 4, 2014
Not sure which is more SHOCKING, how serious @JoanRivers comes across or her gossip about Pres. Obama? http://t.co/OHFyPFpndp via @gossipcop — Cherish Paris (@CherishParis3) July 4, 2014
Joan Rivers: Obama Is Gay, Michelle a Tranny (Video): This ought to go over well with the left… Don't be too s... http://t.co/lISlWVPl0Y

— SavageNation (@SavageNation) July 4, 2014