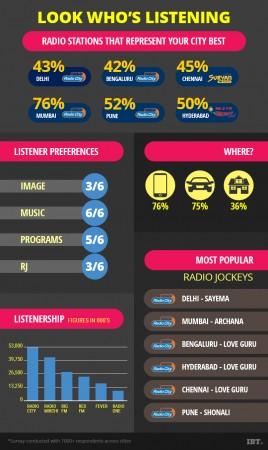 The battle for the airwaves has an unlikely pawn riding its crest. Mobile phones are becoming indubitable weapons of choice in extending the reach of radio. As high as 76 percent of people now listen to FM radio using their mobile phones.
Read mobile, read changing consumption patterns. A whopping 76 percent of consumers accessed FM radio through their mobile phones while an average of 22.5 percent of them listened to the radio while driving.
Another 36 percent used the radio at home. Even as mobile phone penetration is increasing in rural India, radio as a medium of mass communication is now reaching the remotest corners of the country via the mobile phone.
The result is from a study by market research firm AZ Research Partners on current trends in FM radio listenership across the country. Parameters for the study included listenership, frequency, mediums, drivers and motivators, preferences and recall, among others.
Respondents were asked about the radio station they thought represented the essence of their city. Radio City topped the charts in Bangalore, Mumbai, Delhi and Pune while Suryan FM came out tops in Chennai and Radio Mirchi in Hyderabad. The cultural essence of the city was measured using parameters like local flavor, local preferences with locally popular activations and programs.
In terms of listenership, the study concluded that Radio City topped the list with a listenership of 5.2 crore followed by Radio Mirchi and Big FM with 4 crore and 2.6 crore respectively.
The Indian radio industry witnessed significant inventory growth over the past 18 months, says a Motilal Oswal report. Notably, over this period, the number of radio channels in the country increased 66 percent to 407 from 245, while the total number of cities with presence of private FM operators has grown to 113 from 85. This has led to steady growth in advertising time in an otherwise inventory-starved radio industry.