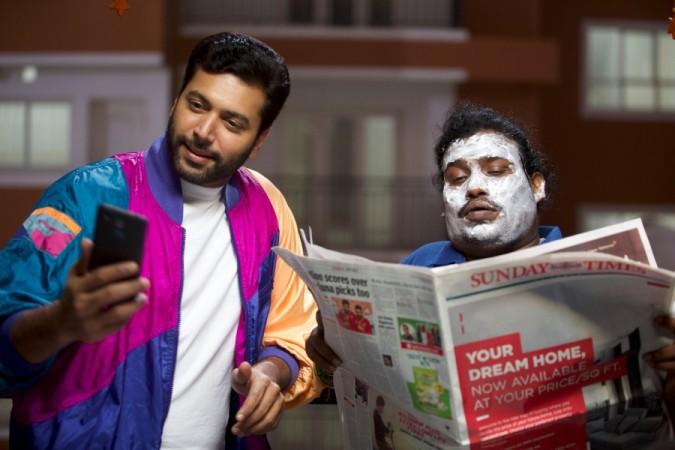 Jayam Ravi has teamed up with newcomer Pradeep Ranganathan, who has learnt the craft through short filmmaking, for Comali, the movie which became the talk of the town recently with its impressive trailer.
He has paired up with Kajal Aggarwal for the first time in Comali. Kannada actress Samyuktha Hegde is making her Tamil debut with this flick by playing the love of Ravi's first love. Yogi Babu will be seen as the hero's side kick. KS Ravikumar, Kavita Radheshyam and a host of other actors are part of the cast. The film has Hiphop Tamizha's music, Richard M Nathan's cinematography and Pradeep E Ragav's editing.
Story:
Comali is a comedy-satire which revolves around Ravi (Jayam Ravi), who is in the state of coma for 16 years. In the last two decades, the country has witnessed massive changes in the lifestyles and value system. The movie tries to showcase how a man who went into a prolonged state of unconsciousness before this revolution reacts to the present reality. The story, laced with humour, tries to carry an important message to the society.
Reviews:
Comali has opened to positive reviews from the critics and cine-goers. Jayam Ravi's school-day avatar for which he lost 18 kilograms has been appreciated by the viewers. Check out the viewers' response to the flick below:
KollyEmpire : #Comali | Interval | Decent and entertaining so far thanks to Jayam Ravi who is so good both as the young boy and the coma survivor. Last twenty minutes looked very much staged and artificial compared to the initial feel. Nice interval block. Yogi Babu & comedies working well!
Bharan: #Comali - Fun & Emotional Drama.. 90s memories, Chennai Flood, current generation,.. Etc Ella recall panirukanga.. Overall ah bore adikama pothu..Watchable movie..
@actor_jayamravi bro school boy character ku nallave effect potu irukinga.. #ComaliReview
Varun: #comali laughed so much after long time. Kollywood has genuine comedy movie after long time. Pure entertainer. Thanks
@actor_jayamravi for your hatrick success.
#Comali Rajini sir comedy is there in overseas content. So USA audience can enjoy the uncut scenes.
Manoj Kumar: #Comali : 3.25/5 Filled wid fun, Entmt, Emotions nd Nostalgic moments
This Film reminds us there is no such things like Caste & Religion when it comes 2 Humanity
Bigil Pradeep: #Comali One time watchable! konjam Emotion, neraya Fun's, Attract Youngsters,( especially 90'skids), oru Fight, okay vana Songsu, Complete Family Entertainer
Krishna Krish: #Comali [3/5] : A fun movie with a message..
Message being today's society forgetting humanity, due to over dependence on technology..
@actor_jayamravi has excelled both comedy and emotional scenes..
#YogiBabu is almost a parallel hero.. His comedy has worked big time..
vishalrajan: #comali A must watch movie in theatre.. First 20mins they brought back the memories of 90's kid. .. Unexpected interval block.. In climax the director just nailed the show with his script..
@actor_jayamravi as usual different script and never failed to get applause from audience
Sanjeevi: #comali never failed to entertain the audience from the starting till the end.Loved
@actor_jayamravi anna's perfomance a lot especially the youthful character.The film has started winning hearts.Congo team!!!
Sidhu: #Comali: The film nicely reminds us of the things we grew up with during our childhood through the props, dialogues and such. I just wish it had left the sleazy part of the comedy in the past too, it was a major turnoff and could have been avoided easily.
#Comali: After a long time, a fully fulfilling show from #YogiBabu. His role is more like a second hero, tagging along with
@actor_jayamravi all the way. The good part is that his one-liners work right until the end, the body-shaming jokes take a back seat too!
#Comali: Comic joyride. A chilled out entertainer that keeps the laughs coming constantly. Led by a superb performance from
@actor_jayamravi @pradeeponelife has delivered a sweet little film that works despite the odd bad joke. Really liked it!
Pavithran: #Comali @pradeeponelife good debut... Ulagathula elamey marinalum humanity marala nu sonathu weightu
@actor_jayamravi saravedi in every frame... @hiphoptamizha rocking @yogibabu_offl
counters worked very well... Overall 90s kids ah kai vidala nenga... Vera level
Ramesh Bala: #Comali [3/5] : A fun movie with a message..
Message being today's society forgetting humanity, due to over dependence on technology..
@actor_jayamravi has excelled both comedy and emotional scenes..
#YogiBabu is almost a parallel hero.. His comedy has worked big time..
Shankar_Dhanush: #Comali wellmade script. Fully engaged.
@actor_jayamravi showed his variation in acting. @iYogiBabu comedy ROFL.. Climax will be talkative one.. Emotions work out very well. Kudos to the entire team
@hiphoptamizha
Review Ram: #Comali is both visually and verbally unfit to be a clean 'U' certificate film. Intentions of the humour are cheap at parts. #CensorBoard - HOW could you do this nonsense every time and again‍♀️
Haricharan Pudipeddi: #Comali, which borrows its basic premise from Kickin' It Old School, is a decent entertainer that has Yogi Babu in terrific form and a fine
@actor_jayamravi in a fun role. Could've been a lot funnier.
Ranjith: Saw #Comali @RohiniSilverScr
!! Semma padam by @pradeeponelife spl mention to the climax
@actor_jayamravi n his choice of movies to be appreciated Thalapathy references theatre erupts @THM_Off
CB: #Comali is a watchable flick though it turns to be a bit dramatic in the end. Comedy works in parts & Jayaram Ravi's Single shot scene in the second half is good.
udhayaa: #Komali very good entertaining movie with lovely msg...
@actor_jayamravi bro u r rocking, great (hard) work..Congrats to my Anna #isariganesh,
@VelsFilmIntl ,@sakthifilmfactory Director and whole Team... Congrats...
Prashanth Rangaswamy: #Comali - There is so much one can take from this movie. The best message of all - Humanity first and then everything. Congrats team - You can be really proud of this movie !
Rajasekar: #Comali - Seamless flow throughout the first half. @actor_jayamravi is fantastic as usual. After a longtime good to see @iYogiBabu
in a well written role. Debutant Pradeep has fully utilized the the sixteen years time gap to engage the audience.Good going so far