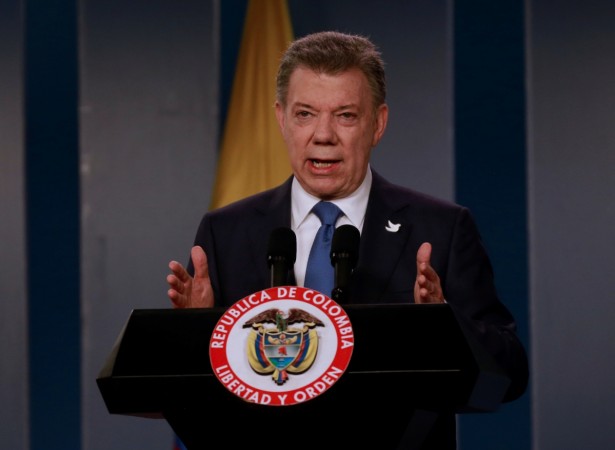 Colombian President Juan Manuel Santos was on Friday awarded the Nobel Peace Prize, ostensibly for the recent end of violence between the state and the Revolutionary Armed Forces of Colombia (FARC). The official website of the Nobel Prize says he was given the award "for his resolute efforts to bring the country's more than 50-year-long civil war to an end."
The move by the Nobel Prize jury surprised many, as the peace accord between the two parties had broke down on October 3, when the camp against the deal won a referendum. The deal had come after 52 years of atrocities that had led to more than 2 lakh [200,000] people being killed on both sides and more than 60 lakh [6 million] people being displaced.
The peace deal, for which Santos received the prize, was signed in September following negotiations that spanned four years. Interestingly, FARC leader Rodrigo Londono, also known as Timochenko, had also been tipped to win the Nobel Peace Prize, but has seemingly been ignored by the judges.
According to the official statement of the Norwegian Nobel Committee: "The award should also be seen as a tribute to the Colombian people who, despite great hardships and abuses, have not given up hope of a just peace, and to all the parties who have contributed to the peace process. This tribute is paid, not least, to the representatives of the countless victims of the civil war."
Speaking on the referendum that scuttled the bilateral peace deal, the committee said: "This result has created great uncertainty as to the future of Colombia. There is a real danger that the peace process will come to a halt and that civil war will flare up again. This makes it even more important that the parties, headed by President Santos and FARC guerrilla leader Rodrigo Londono, continue to respect the ceasefire."
The panel added: "The fact that a majority of the voters said no to the peace accord does not necessarily mean that the peace process is dead. The referendum was not a vote for or against peace. What the 'No' side rejected was not the desire for peace, but a specific peace agreement."
Explaining the rationale behind awarding Santos the prize, the committee said: "It is the Norwegian Nobel Committee's firm belief that President Santos, despite the 'No' majority vote in the referendum, has brought the bloody conflict significantly closer to a peaceful solution, and that much of the groundwork has been laid for both the verifiable disarmament of the FARC guerrillas and a historic process of national fraternity and reconciliation. His endeavours to promote peace thus fulfil the criteria and spirit of Alfred Nobel's will."