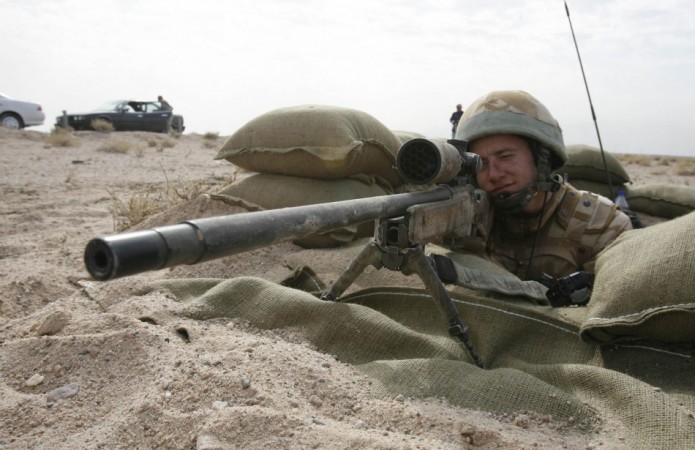 In what has been referred to as "a record breaking shot," a British sniper killed six Taliban fighters simply by triggering one shot.
Here is How:
One Taliban fighter was half a mile away from sight. The British soldier knew that a clean shot would take his enemy down. The only thing he didn't know was that his one bullet would kill five other friends of the enemy present.
Apparently, his rifle round triggered the explosion from the vest worn by his target, killing all the men present around him, British Tabloid Daily Mail reported.
The record-breaking shot was reportedly fired by a Coldstream Guards marksman on one of the last missions carried out by the troops before they exit Afghanistan.
The UK forces are currently counting their last days before leaving their frontline base in Helmand.
The sniper, supposedly a lance corporal, who was not named due to security reasons, was on a mission to intercept a suspected suicide bomber. Commandos and soldiers had feared that the bomber was planning to blow himself up at either a UK base, a civilian target such as school or a government building or an Afghan security checkpoint.
But before the bomber could execute his plans, the British sniper reportedly blew him up with the help of one triggering bullet that blew up the entire area he was present in.
As the British troops were moving to tackle the suicide bomber, they are said to have ran into attacks from a group of 20 Taliban.
A massive firefight broke out between the troops and Taliban group as the soldiers were moving to tackle the bomber.
"The guy wearing the vest was identified by the sniper moving down a tree line and coming over a ditch," the newspaper quoted Lieutenant Colonel Richard Slack overseeing the operation at Kakaran, as saying.
"He had a winter shawl on which rose up and the sniper saw he had a machine gun. He was moving to a firing position when the sniper engaged him and the guy exploded.
"There was a pause on the radio and the sniper said: "I think I've just shot a suicide bomber. The rest of them were killed in the blast," he said.
The sniper is also known to have killed another Taliban machine gunner from a staggering 4,400 feet on the first shot on his tour of duty.