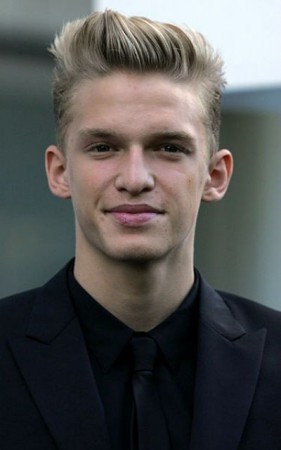 Cody Simpson may not be showing his dance moves on "Dancing With The Stars" anymore but his romance with Gigi Hadid has turned steamier. Simpson is madly in love with the model and reportedly thinks that her topless shoot for V Magazine was amazing.
"I love them! She's dope. She's amazing - she's obviously one the youngest Sports Illustrated models out there, she's doing a lot of high fashion stuff now. Just to be able to see her doing her thing is great. She's such a cool chick," he said in an interview with Hollywoodlife.
Hadid and Simpson started dating in 2013 and the former even starred in one of his music videos. Much recently the couple filmed a sexy video "Surfboard" and their chemistry has hit the right notes with the fans.
As far as the video goes, Simpson suggests that his music is matured and there are much less boundaries now. Hadid and Simpson indeed have a rocking relationship and the "Surfboard" song was especially written for her.
"It was natural to have someone that I have natural chemistry with. The video has a very sexual element to it, it is very sexy," he added. "We had a couple of scenes where we kissed in the video and they had to tell us to stop when the cameras weren't rolling!"
Simpson who was recently eliminated from ABC's show "DWTS" did a ballet on "Surfboard" in one of the episodes.
"Obviously I have some kind of head start because I know how to perform and I know how to move in general, but the ballroom stuff is a totally new ball game," he explained. "It's a totally new way of moving."
(ED:VS)