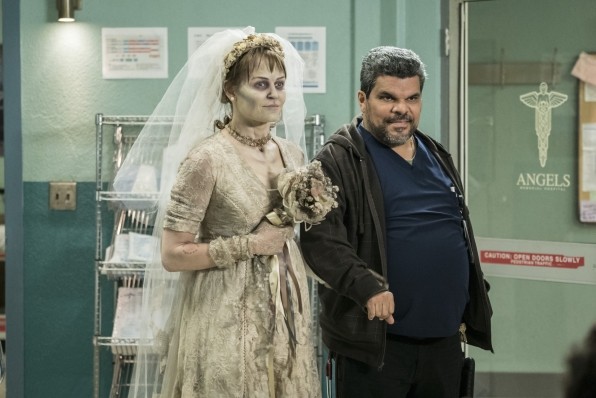 "Code Black" is moving ahead strongly by delivering solid episodes week after week. With a good dose of guest stars, the CBS medical drama has also managed to narrate powerful stories and show interesting medical cases. And now the focus is more on hospital politics and interpersonal relationships.
CLICK HERE to watch Episode 17, titled "Love Hurts," live. And CLICK HERE to watch it later online.
In Episode 16, we saw the doctors in the hospitals dealing with hospital politics and interpersonal relationships. While Leanne and Mike adjusted to their new roles as ER directors, Angus and Malaya both figured a way to progress, and dealt with their hurt feelings.
Meanwhile, Neal convinced the hospital's CEO Ed Harbert to allow him to be transferred to another department so that he could save a girl's life, but instead he screwed it all up.
The upcoming episode of "Code Black" will be all about zombies and angels. The synopsis of Episode 17 teases that Christa may put aside her personal issues with Grace, who is Neal's ex-girlfriend, aside in an effort to work with her on a case. The two doctors are expected to treat a patient named Brody, who claims to have been abused as a teenager. The summary also hints that Campbell will ask Grace out.
Meanwhile, the photos of "Love Hurts" show a group of zombies and angels invading Angels Memorial Hospital. It looks like the undead are taking over the ER and we can see Dr Guthrie and Jesse treating them too.
So, has the "Code Black" set turned into a "The Walking Dead" set in Episode 17? "Love Hurts" will reveal what's with all these zombie antics.
Official synopsis of "Love Hurts" reads: "Christa must put aside her personal feelings for Grace and work with her to treat Brody, a patient who claims to have been abused at a camp for troubled teens. Also, Grace is surprised when Campbell asks her out."
"Code Black" Season 1 Episode 17, titled "Love Hurts," will be aired on CBS on Feb. 17, 2016, at 10 p.m.