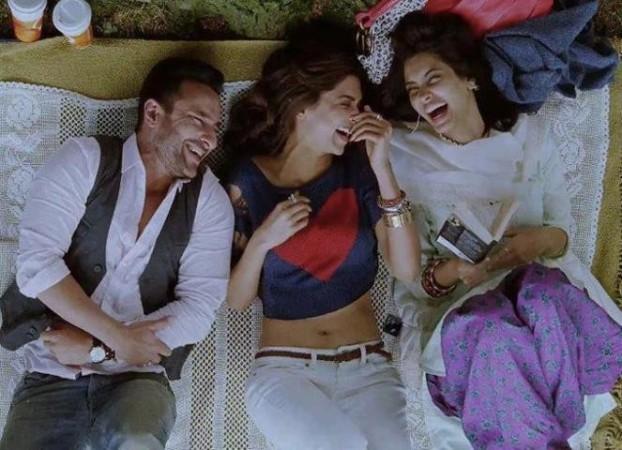 Homi Adajania's directorial debut in Bollywood "Cocktail", co-produced by actor Saif Ali Khan, was released worldwide on Friday. It is a youth-oriented film starring Saif, Diana Penty and Deepika Padukone lead roles.
The movie has got mixed reviews. Here is what critics have to say about their "Cocktail" experience.
Reviewing the movie for CNN IBN, Rajeev Masand appreciated the way Deepika Padukone and Boman Irani played their characters, churning out funny moments in the film. "There isn't much subtlety in the performances in Cocktail, but it's Deepika Padukone who walks away with the best role. As attention-seeking Veronica, she injects fun and darkness into the character, and gives evidence of an as-yet-unseen confidence. Boman Irani and Dimple Kapadia raise many laughs as Gautam's loud, yet funny family, although Dimple ought to sue the makers for those unflattering close-ups."
He opined that Saif has played flirty role better in the past than in the "Cocktail."
Masand writes, "With the right ingredients in the right proportions, this might have made for a smooth concoction. But Cocktail is a mostly flat romance; one that could've done with more heart."
Taran Adarsh, reviewed, "Diana Penty, who makes her acting debut, gets to portray a rather difficult character for her debut film. There's a very disarming kind of innocence that she brings to the role and she impresses a great deal. Dimple Kapadia is in terrific form, portraying the atypical North Indian lady with gusto. Boman Irani is first-rate, especially in sequences with Dimple. Randeep Hooda's character is under-nourished."
He suggested that Saif and Deepika comfort level has certainly gone up in this movie, given the benefit that they had acted together in three films.
"On the whole, "Cocktail" has a fascinating first half, charismatic performances, harmonious music and the trendy look and styling as its aces, but the second half is not as tempting or intoxicating as the first hour. It pales when compared to the attention-grabbing first hour. Yet, all said and done, this one's primarily targeted at the Gen Next, especially those in metros, who might identify with the on-screen characters," Adarsh writes for Bollywood Hungama.
Trisha Gupta of First Post said that "Cocktail" premises is not new as a series of movies have already been made with such themes in recent times. However, she said the movie is cool and "classy with charm to spare."
She said that Cocktail's screenplay is in recognizably style: "In a style that feels recognizably similar to "Love Aaj Kal", Imtiaz Ali's superbly crafted screenplay leavens almost every emotional interaction with an understated, half-ironic sense of humour. But perhaps Cocktail's crowning achievement is that it also frequently manages the opposite: shoehorning us into a space where all the cues point to laughter, and then interrupting with a moment of quiet that stays in your mind long after the giggles are gone."
"The film is a complete departure for Homi from his last Being Cyrus with Saif, but while the director had shown a mastery at handling a rather complex story in his first film, he seems to be grappling badly with the commercial formula in the second half of this one, despite a brilliant start initially. The dialogues are not as inspiring, as Saif's earlier outings, and the story is a complete let-down in the second half. Over all, this Cocktail tastes good only in the first few sips, but loses flavour midway," writes Aakanksha Naval-Shetye & Chaya Unnikrishnan of DNA.
Saibal Chatterjee of NDTV Movies wrote, "The two girls in the rigmarole, Deepika Padukone (first-rate) and debutante Diana Penty (pretty good), make a fair fist of the job of getting an array of emotions across during breaks from cavorting through the streets of London and having a good time on the beaches of Cape Town."
"Cocktai' has just the right mix of fizz and flavour to allow the occasional and inevitable crinkles of triteness to flow well below the surface. It is definitely worth a visit to the multiplex," wrote Chatterjee.