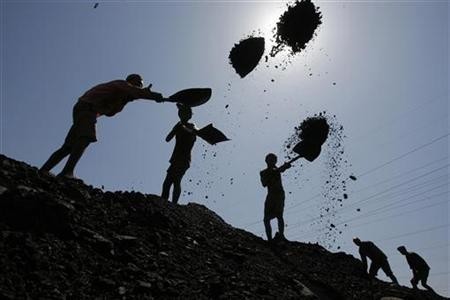 Adding more complications to the ongoing Coalgate controversy, the inter-ministerial panel has reportedly recommended for the cancellation of licences of as many as 58 companies for breaching the time to begin mining.
The Coal Ministry-appointed inter-ministerial panel, which was instituted to oversee the progress of all allotted coal blocks, has reportedly found that several companies are yet to start mining even after years of allotment.
Latest reports have it that inter-ministerial panel has also suggested in its final reports to allot the cancelled licenses to the state-run mining companies.
A couple of days ago, the Times of India reported that "several big corporates, including Tata, Arcelor Mittal and Jindal groups, are among those facing the axe for what official sources called 'squatting' over blocks, with the companies having been issued show-cause notices."
"The blocks allotted to companies that were found wanting in their efforts to meet the timelines would be de-allocated and in cases where progress was delayed due to genuine reasons such as delayed environment clearances, they may be spared," TOI quoted a coal official as saying.
The reports also suggested that the most of the companies that are facing the cancellation of licenses were not named in the Comptroller Auditor General of India's report, which indicted the irregularities in allocation of coal blocks.
The CAG report over the allocation of coal blocks between 2004 and 2009 pointed out several lapses in government's side while granting the licences to about 150 state and private companies.
The government auditor also calculated a whopping ₹1860 billion loss to state exchequer owing to the irregularities in the process, which kicked off a nationwide furore and motivated the opposition parties to demand for Prime Minister Manmohan Singh's resignation, given that he oversaw the coal ministry during the alleged lapses took place.
Intensifying the attacks against the government, the main opposition BJP has been stalling the proceedings in the Parliament demanding the Prime Minister to quit on moral grounds. The BJP's adamant stand over the issue has increased the possibility of complete washout of the Monsoon session.
Amid the Government-Opposition stand-off, over 100 key bills have been lying unheard in the Parliament.