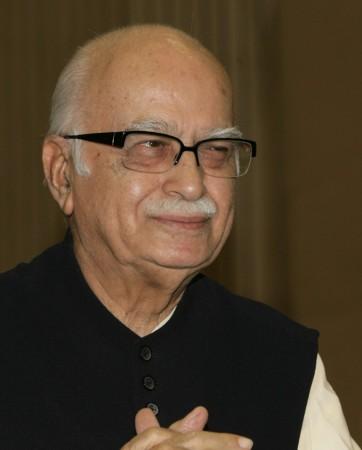 In the backdrop of the continuing Parliament impasse the past week, senior BJP leader LK Advani on Sunday took to his blog clarifying and justifying his party's demands to end the deadlock in both the Houses.
He described Prime Minister Manmohan Singh's statement on the Comptroller Auditor General of India's report on the alleged irregularities in coal allocation as "totally unconvincing explanation", and slammed the Prime Minister for holding the BJP-run state governments for their involvement in the coal allocation process.
"I was intrigued to find that Federalism was sought to be blamed by the Prime Minister in his totally unconvincing explanation," Advani wrote on his blog.
Advani sternly refused to buy the Prime Minister's argument that the Central government was unable to implement the Law Ministry's recommendation that there should be competitive bidding for the coal blocks because of BJP chief ministers.
Reaffirming the BJP's demands, Advani said "The NDA has offered to resolve the deadlock if all the allotments made are cancelled and the process whereby the screening committee has decided these allocations is subjected to a judicial probe. The Government is not yet prepared for this."
He said that the government is unwilling to cancel the coal blocks allotments as it would be equivalent to admitting the mistake.
The BJP has now has softened its stand on the resignation of the Prime Minister on moral grounds. It's presently pressing for the cancellation of all the allotted licences and an individual judiciary probe into the matter.
Leader of Opposition in Lok Sabha Sushma Swaraj's tweet on the BJP's demand over Coalgate scandal proved that the party has put the demands for PM's resignation on the backburner for now.
Swaraj took to the micro-blogging site Twitter about her telephone conversation with UPA chairperson Sonia Gandhi.
On Twitter, Swaraj wrote that the Congress president called her seeking to end the Parliament impasse by debating on the CAG report.
Swaraj tweeted: "I told her that the Government should announce the cancellation of Coal blocks and institute a fair and independent inquiry. Then we could have a discussion."
The CAG report over the allocation of coal blocks between 2004 and 2009 pointed out several lapses in government's side while granting the licences to about 150 state and private companies.
The government auditor also calculated a whopping ₹1860 billion loss to state exchequer owing to the irregularities in the process, kicking off a nationwide furore and motivating the opposition parties to demand for PM Manmohan Singh's resignation, given that he headed the coal ministry when the alleged lapses took place.