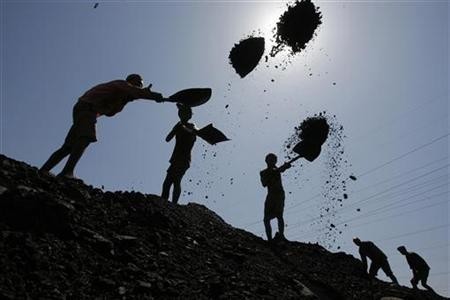 The spotlight of the coal allocation scam has turned to BJP too, as the party President Nitin Gadkari's close aide Ajay Sancheti has been accused of being one of the beneficiaries of the multi-billion scam.
After terribly failing to convince the BJP to debate the Coalgate issue and CAG report on the floors of the House, the Congress Party is now allegedly trying to point the gun at the main Opposition party leaders.
Rural Development Minister Jairam Ramesh has levelled allegations against Sancheti, saying that Sancheti secured a coal block in Chhattisgarh in violation of rules. He also reiterated the Congress' stand that BJP-governed states were against the competitive bidding of coal blocks.
"Is it not true that the CAG has indicted a BJP-ruled state government for causing loss of over Rs.1,000 crore to the state exchequer by handing over a coal block originally allocated to Chhattisgarh Mineral Development Corporation to a BJP Rajya Sabha MP (Ajay Sancheti) who is a close associate of BJP president Nitin Gadkari?" Ramesh asked at a media briefing in New Delhi as reported by India Today.
Ramesh also reportedly provided a questionnaire titled "8 Inconvenient Truths for the BJP," which supposedly contains the details regarding how the BJP government opposed the idea of competitive bidding.
Earlier, Union HRD Minister Kapil Sibal released a bunch of documents to the press corps, raising question on the functioning of NDA regime in allocating coal blocks between 1998 and 2003. He said that the allocation of coal blocks between the mentioned periods was carried out without any established procedure.
Reiterating Kapil's claim, Ramesh also alleged that BJP-led NDA government had no proper system in place in allotting the coal blocks and it also carried out the allocation without as much guidelines or advertisements. And he was also quick to add that soon after the UPA came to power, the Centre issued the advertisements for the first time in Sep 2005, promoting the application for coal blocks.
Meanhwile, talking tough on the coal scam controversy, Ramesh reportedly clarioned that nobody would be spared if found guilty and the government would initiate proceedings once it receives the inter ministerial group (IMG) report.
IMG was commissioned by the coal ministry to look into the progress of the allotted coal blocks.
Commenting on reports over Sancheti's alleged benefit in the coal scam, BJP spokesperson Ravi Shankar told a television news channel that the party was ready for a probe into the allegations.