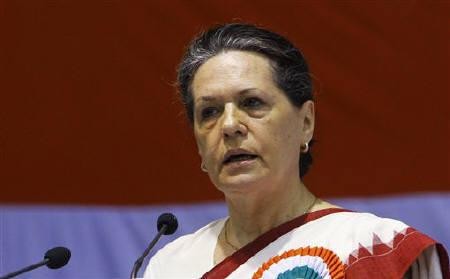 As the Parliament impasse continued on Tuesday over the Comptroller and Auditor General's (CAG) report on coal block allocations, UPA Chairperson Sonia Gandhi rolled up her sleeves to put up a fight against rival party Bharatiya Janata Party (BJP).
The BJP leaders have been stalling the functioning of the Parliament over the past week as they are demanding the resignation of Prime Minister Manmohan Singh over the alleged scam in coal allocation.
Sonia appealed to her party workers to take on "intemperate criticism and negative politics" of BJP over the CAG report on the allocation of coal blocks, accusing the saffron party of holding the Parliament to ransom.
The CAG in its final audit report indicted irregularities on government's side in allocating coal blocks to some private and public-private companies between 2004 and 2009 and calculated a loss of ₹1860 billion to the state exchequer.
Since the fall out of the alleged coal scam, BJP has been hampering the usual business at the floors of the Houses by flexing its political muscle as the largest oppositional party. Though the Congress offered to take up the CAG report for detailed discussion in Parliament, BJP has vehemently dismissed saying that the talks would just cover up the matter.
"A debate is an essential ingredient of Parliament but so is accountability. If a debate is being used today to put a lid on accountability then an alternative strategy is necessary. Parliamentary obstructionism should ordinarily be avoided. However, in the rarest of rare cases, obstructionism also bring its dividends. The country lost a valuable session of parliament in December 2010 on the issue of 2G spectrum scam," said the Opposition leader in Rajya Sabha, Arun Jaitley.
Earlier in a statement, Congress MP Renuka Chowdhury said, "it is unfortunate that the opposition has this only outside and on the streets and not within the ambit of parliament. The government is perfectly willing to have a full fledged discussion and set at rest any questions that they may articulate."
"However, the opposition seems to choose not to let the House function but to get to the streets which is untrue and to misguide the common man which is unfortunate," she added.
Appealing to the opposition to come to the Parliament for the discussion, Chowdhury said," We are willing to clarify on any aspect. Subsequent to that if they find the need to go back to the streets, they are most welcome but we are very-very confident that we can set to rest whatever misconception about what is happening or what happened."