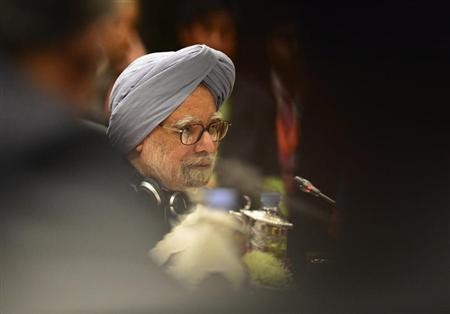 Some called it a 'clear conscience' while others dubbed it as a meaningless statement when Indian Prime Minister Manmohan Singh declared he was willing to be questioned by the Central Bureau of Investigation in the alleged coal allocation scam that has marred his government.
"I am not above the law of the land. If there is anything that the CBI, or for that matter, anybody wants to ask, I have nothing to hide," Singh told media persons while on-board an airplane from Beijing, China, to Delhi.
According to reports, the decision on whether to question the prime minister will be decided in a Supreme Court hearing on 29 October.
"If there is anything that the CBI (Central Bureau of Investigation) or for that matter anyone, wants to ask, I have nothing to hide," Singh said.
Last week, the CBI probe alleged corruption charges against former coal secretary PC Parakh and leading industrialist Kumar Mangalam Birla.
The CBI has also asked the PMO to submit all documents related to the contentious coal allocation to Birla's Hindalco Company in 2005.
Latest Reactions
Kiran Bedi, former IPS officer and social activist: "PM under investigation cannot continue to lead the country! Justice demands when a person is under investigation he must step aside. Gravity of CoalGate needs an SIT led by Retd Supreme Court Judge with team of dedicated investigating officers to conclude before d polls!"
Bedi further said that such scams shouldn't have happened under the PM's watch. "If u as @PMOIndia hav nothing to hide why did u as PM continue to keep+ protect tainted Ministers in your Cabinet to carry on their crimes? Was it not yr duty as @PMOIndia to protect d interests of d country above all other interests? Then why so many scams?Whose responsibility."
"When Shibu Soren and Parakh both write to Coal Minister @PMOIndia decision taken/not taken is also a decision,for which taker is responsible."
Captain Abhimanyu, Bharatiya Janata Party (BJP) Spokesperson: "PM's statement that he has nothing to hide indicates that he firmly believes in his CBI. He (PM) must answer to the nation as to why are some files missing?" reported ANI.
ShivrajSingh Chouhan, MP Chief Minister: "When PM says he is willing to be questioned by CBI, why didn't he take any proper action on the letter written by Parakh in the year 2005?"
Jay Panda, Biju Janata Dal (BJP) leader: "CBI should have a free hand, there are serious allegations that need to be looked into."
Yashwant Sinha, BJP leader: "He does not believe in what he says and he never acts on his statements. And the most glaring example is he had said that he would appear before the Public's account committee knowing full well that the committee couldn't call him. When I had personally written a letter to him to appear before the Joint Parliamentary Committee, he took a similar stance. And this time his statement is meaningless. He must resign."
Digvijaya Singh, Congress Spokesperson: "I congratulate the PM coz he has clearly said he doesn't fear from being scrutinized by the CBI."
"I also think that the CBI needs to reconsider regarding the FIR lodged," he added.
Prakash Javadekar, BJP leader: "PM says he is ready to appear before CBI(coal scam),he said the same during 2G scam also,but it didn't happen. Maybe he (PM) is thinking of getting clean chit from CBI just like Mayawati and Pawan Bansal."