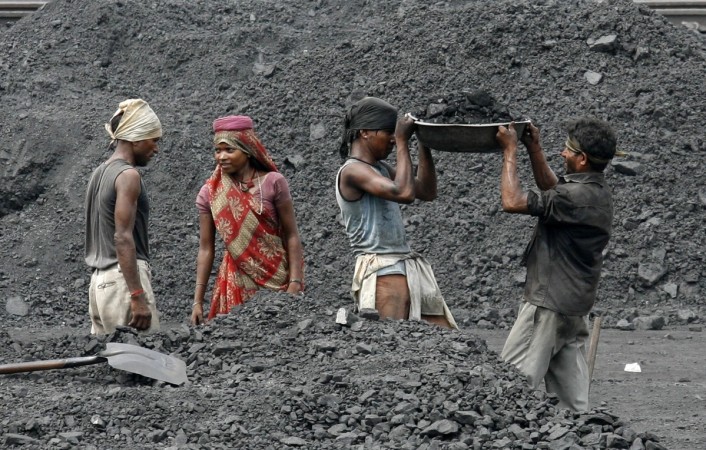 Piyush Goyal, who heads the power and coal portfolios in the Narendra Modi government, is caught in a peculiar situation on whether coal mine blocks can be used as collaterals for bank loans.
The issue arises in the context of Reliance Power's subsidiary Sasan Power seeking permission to mortgage captive coal blocks for its Rs. 14,500 crore bank loan, reports the Indian Express. The loan was sanctioned in April 2009 by a consortium of 14 banks.
The blocks are at Moher and Moher-Amlohri Extension, attached to the Sasan UMPP in Singrauli district of Madhya Pradesh.
While the coal ministry is against such a practice, the power ministry has a different view about it.
The coal ministry turned down a request by Sasan Power to allow the company to mortgage the coal blocks security trustee SBI Caps on May 4, citing provisions of Power Purchase Agreement (PPA).
"...a view emerged that as per article 16 of the Power Purchase Agreement (PPA) which also formed part of the bidding documents, coal block was not specified as one of the assets," the daily reported, citing a meeting between coal and power ministry officials in April.
The power ministry, not satisfied with the outcome, came out with its contrarian view within a week of the rejection on May 4.
"Ministry of Power would like to reiterate its views that according to the PPA, nothing specific has been mentioned in the PPA regarding the mortgage/assigning of mining lease of coal block. It was also stated that coal from the mine is to be exclusively used for the designated UMPP," it said, according to the Indian Express.
The coal ministry, surprised by the power ministry's stance, said it stands by its position on the issue.
"If, however, Ministry of Power is of the view that mining lease/coal block is not an asset covered under the definition of asset given in PPA/bid document and (that) according the permission may vitiate the bid, the permission to mortgage mining lease cannot be given, a decision which has been taken and communicated to the Government of Madhya Pradesh," the coal ministry said.
The daily said that the matter has been referred to an inter-ministerial group for wider consultation, Goyal's office told the daily.