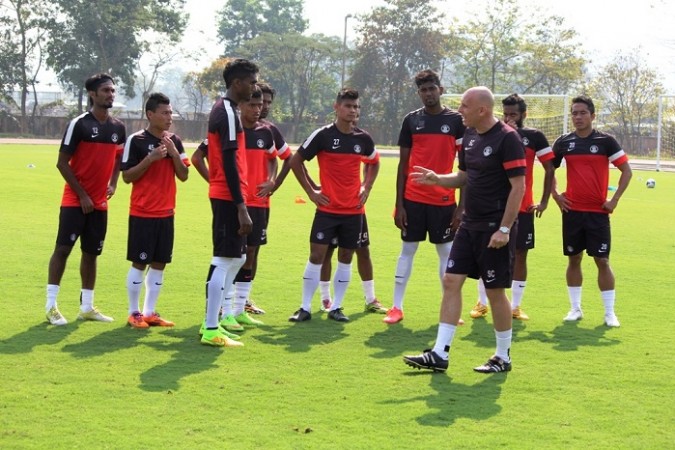 Football is not only about the talent and skill a player possess, but also the way a footballer is looked at before and after the match.
Footballers, like other sports-persons, need to follow a strict diet and maintain fitness throughout their career and it is at this juncture that the support staff with top notch specialities come in handy.
But Indian football may not have the luxury of professionals with different specialities, and hence have to make do with whatever they have and use it wisely.
India's coach Stephen Constantine has even asked some of the national team support staff members to help Indian footballers in different age-groups and they have duly agreed.
"Even though he (Danny Deigan) and Rogerio Ramos, the Goalkeeping Coach are the backroom staff for the National Team they have willingly agreed to work with any and all of our age group Teams in order to help and develop the National Team Players," PTI quoted Constantine as saying.
The Indian coach wonders if any coach of a national side has asked his staff to work for different age level players.
"I don't know about any other National Coach who firstly would ask his backroom staff to work with the U-19s and I am not sure how many would agree to do it. But in this case, both have agreed to do so. It's the optimal utilisation of resources."
Danny Deigan, a key member of the backroom staff, has been helping the Indian football team not only with the physical aspects, but is also looking after their daily diet routine.
"Danny Deigan, one of my other support staff is a sports scientist who has worked in the National Institute for Sports in Australia which is renowned for their discipline, commitment and excellence in the field of sports science," said the coach.
Constantine is also happy in having attained Deigan, who is willing to help improve Indian football in different capacities.
"Apart from the physical aspects, Danny is also responsible for the diet, individual programmes, periodisation programmes, strength and conditioning as well as monitoring player's progress on and off the pitch. It so happens that we have acquired somebody who is young, energetic and willing to do anything to help our national teams," he said.