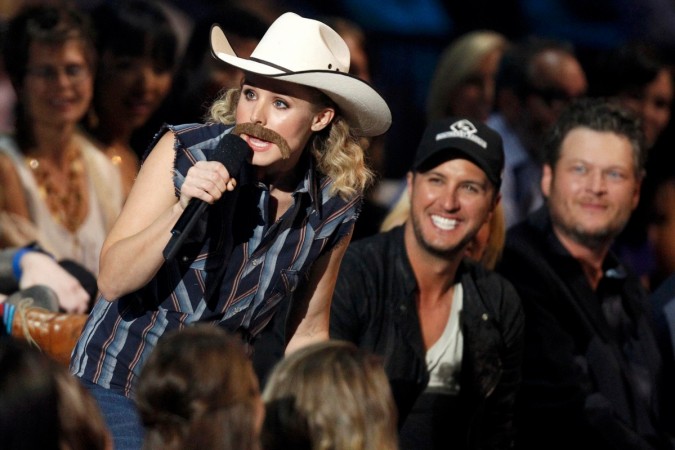 Kristen Bell, the host of this year's CMT Music Awards, a fan-voted awards show for country music videos and television performances, opened the award night on Wednesday with a skit that spoofed Jay Z and Solange Knowles' elevator fight, which had the audience in splits.
The skit opened with Bell waiting for an elevator, while footage from a surveillance camera shows Luke Bryan and Florida Georgia Line punching each other. Once the elevator doors open for Bell, they tell her: "Hey! What happens in the elevator stays in the elevator."
The reenactment spoofed Jay Z, Solange and Beyonce's movements during the elevator fight that had Solange kicking and clawing the rapper while Beyonce stood aside watching the drama unfold.
Bryan, Bell's partner in crime for the elevator skit, was also not spared, as she poked fun at him for falling off stage during a concert in Charlotte.
Bell was at her hilarious best during the award night and at the beginning of the show she launched into a song about moose knuckles.
"We love our country guys — I mean, really love them. We love their style, their swagger, their in-your-face attitude. But there's one thing that's maybe too in our face, guys … those too tight jeans," the 33-year-old actress said, before singing about moose knuckles.
Bell's performance has garnered a lot of appreciation, with many netizens noting that she might perhaps be one of the best CMT hosts ever.
Check out some of the tweets below.
Kristen Bell's moose knuckle song is gonna to straight to iTunes #1 spot!

— Kelsey Merando. (@merando_k) June 5, 2014
@IMKristenBell ...a belt buckle. A moose knuckle... That alone made her the best host. #CMTMusicAwards — Jamie Canaves (@Oh_Dinky) June 5, 2014
Big buckle, moose knuckle!! Kristen Bell you are awesome!!!! Now my husband can realize the truth!!! #CMTawards #cmt

— Crystal Naegelin (@Crysleighlove) June 5, 2014
Me and @BethOnY100 laughing our asses off right now at @IMKristenBell and her "Belt Buckle, Moose Knuckle too right jeans song! Hahaha — Jeff Miles (@JeffMilesY100) June 5, 2014
At the award ceremony, Bell also honored country music legend Alan Jackson by dressing up like the singer in his signature blond mustache and cowboy hat. Jackson appeared to have loved her get up so much that he even posed for a photograph with the "Frozen" actress.