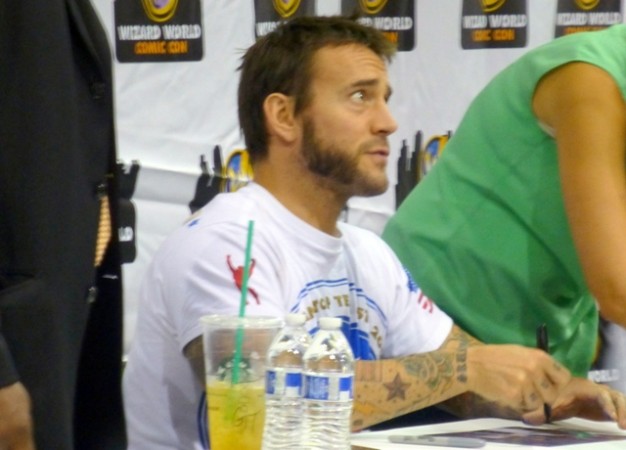 It's been quite a while that UFC announced former WWE superstar "CM Punk" a.k.a. Phil Brooks as their latest acquisition. In December 2014, UFC revealed the major news, which was greeted by a lot of excitement by one and all.
One person wasn't really excited, however, and even after more than a year, UFC commentator Joe Rogan feels CM Punk took a "ridiculous" decision to transition his career from pro wrestling to Mixed Martial Arts.
While the MMA and pro wrestling aficionados around the world keep asking when CM Punk will finally make his debut in the main stage of the UFC, Rogan questions why the former WWE Champion did think of joining the grand MMA company despite not even having any prior experience in the sport.
"I also think it's ridiculous for him to fight in the UFC," Rogan was quoted by Fox Sports. "I think he [CM Punk] should fight in a small organisation. Take a fight in a small organisation, build yourself up."
"I have always said that's what should have happened with Brock Lesnar."
Brock Lesnar, presently with the WWE, on his part, took part in a local MMA fight prior to making his UFC debut. He then went on to become one of the most feared fighters in the UFC Heavyweight division, and soon he was holding the UFC Heavyweight title.
Lesnar was also a decorated collegiate wrestling champion.
Punk on the other hand, has no striking or grappling experience as such. He practised Kempo Karate for some years before starting out as a pro wrestler and was also seen sparring with Rener Gracie in Brazilian Jiu-Jitsu (BJJ) on many occasions, but apart from that, he doesn't have a great CV to become a MMA fighter.
"I don't know what's going to happen with that guy," Rogan continued. "I don't understand this whole thing."
Punk, 37, who is most possibly going to be billed as a Middleweight fighter in the UFC, was scheduled for his UFC debut early in 2016 itself, but a shoulder injury dashed his hopes. It looked like the pro wrestling star could finally get back up and fight in the later stages of the year, but a fresh back injury again pulled him down.
Mickey Gall, meanwhile, has been the frontrunner to be CM Punk's opponent in his debut UFC fight.