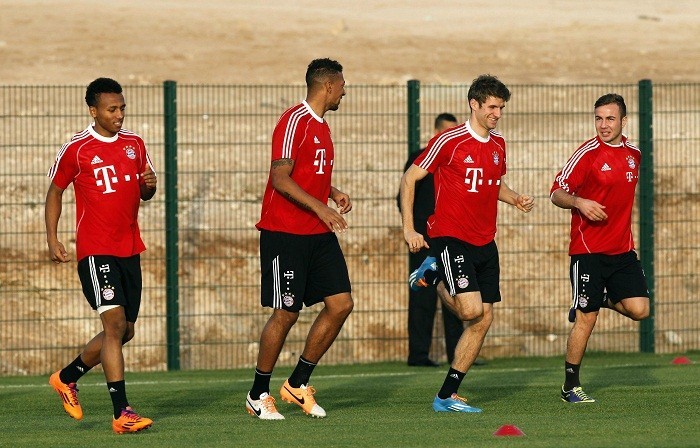 Bayern Munich begin their quest for world dominance with the Club World Cup semifinal encounter against Marcelo Lippi's Guangzhou Evergrande at the Agadir Stadium on Tuesday night.
The Champions League winners are looking unbeatable at the moment, and are the clear favourites to add to their European cup and Bundesliga title with the Club World Cup crown in Morocco.
However, in Lippi, the manager of Guangzhou, Pep Guardiola and co. come up against a wily old fox, deeply entrenched with all the tricks of the trade.
While Bayern will no doubt take Guangzhou Evergrande and their experienced manager very seriously, they will be quite confident of toppling the Chinese side.
"The Club World Cup is our final objective of the year," said goalkeeper Manuel Neuer, one of many world-class players in the Bayern squad. "We've had a lot of success over the last 12 months and we want to end 2013 on a high note.
"These matches between the best clubs from each continent give us the chance to show that we really are the number-one side. That's what we're aiming for."
Guangzhou booked their date with Bayern in the semifinals courtesy a 2-0 victory over Al Ahly on Saturday, courtesy goals from two of their many South Americans Elkeson and Dario Conca.
Lippi has had a lot of success with German sides, both as club manager and with the national team, but this will be the first time he comes up against Bayern and it is a challenge he is relishing.
"It's the first time in my career that I've faced Bayern," the Italian legend said. "It'll be interesting to measure the gap between the best team in the world and one of the best teams in Asia.
"We'd probably lose 99 out of 100 games against them, though maybe our one and only win will come in the semifinals here. Our year started back on 5 January and most of my players have got 65 matches in their legs. There's also the fatigue of the trip here to consider. They're very tired, both mentally and physically, but facing Bayern is one of the biggest things a player can experience."
Lippi also had kind words for his counterpart Guardiola. "Pep Guardiola is a very intelligent person," the Italian added. "He's won pretty much all there is to win and developed his own philosophy of football. Playing him and Bayern will be very special for us."
Where to Watch Live
The game is scheduled for a 1am IST (Wednesday) start with live coverage on Sony Six in India. The match is at 2.30 pm ET in the U.S. and viewers can live stream the match online by clicking HERE. FIFA's official website FIFA.com will also be providing online coverage and updates.