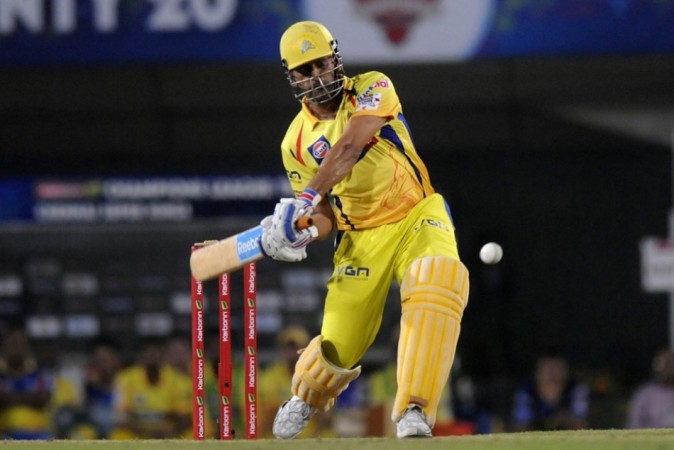 When M.S. Dhoni is in a destructive mood, the opposition bowlers can do one thing and one thing alone - run up to bowl, close their eyes immediately after that, and probably say a little prayer along with it.
Unfortunately for Thisara Perera, the man of the match in the previous game, it did not quite do the trick, with the Sunrisers Hyderabad bowler taken for 34 runs in one over, including five sixes from Dhoni.
The Chennai Super Kings smashed 202 for four, riding on Dhoni's amazing 63 from 19 balls, with Suresh Raina (84 in 57) also impressing.
In reply, the Sunrisers were always up against it, but gave a good fist of the chase; however they fell marginally short, managing 190 for seven to hand CSK a 12-run win.
Shikhar Dhawan (48, 34b, 7x4, 1x6) and Parthiv Patel provided the Sunrisers with the now customary blazing opening start, putting on 88 runs in just 9.2 overs.
A misunderstanding between the two left-handers led to Patel (38, 28b, 6x4) being run out with the everpresent Raina getting the direct hit.
All the pressure was now on Dhawan and J.P. Duminy, but neither of them could stay at the crease much longer as, first Duminy - bowled by Raina - then Dhawan - caught behind off R Ashwin - fell in the space of an over.
Perera, probably still reeling from the Dhoni mauling, could not provide another blitzkrieg with Darren Sammy (50, 25b, 2x4, 5x6) smashing a few out of the ground, but not able to do enough to take his side home.
The first innings - what more can you say other than - Suresh Raina and M.S. Dhoni, smashing it, caressing it and then smashing it some more that the poor old ball would want to go into retirement with his seam curled up somewhere in a dark and cosy place.
Murali Vijay again disappointed, edging one to slip off Dale Steyn in the second ball of the innings. Michael Hussey and Raina were again primed for another big partnership.
However, just when Hussey was looking to unleash some of graceful yet oh so effective strokes, Duminy (two for 27) got one to grip and turn with the ball taking an outside edge on the way.
All that meant was Raina (84, 57b, 9x4, 1x6) started to do all the work in the mid-innings on his own. There are very few batsmen in limited overs cricket that can be as destructive in such a pure manner as Raina and the CSK left-hander was at his best tonight.
Almost every ball he faced from around the ninth over onwards was an attacking one, with boundaries very much the order of the day.
The Sunrisers bowlers, so highly rated, just did not have an answer to Raina's studied assault. CSK looked to be on their way to around 170, when the game turned completely in the first ball of the 15th over.
Dale Steyn ran around nicely to hold onto a catch off Duminy with Subramaniam Badrinath, struggling for timing, walking off the field. That was the cue for hometown boy Dhoni to take centrestage, but no-one expected the amount of carnage that they were about to witness.
Dhoni likes to give the bowlers a false sense of security, luring them in before wielding that big blade of his to unbelievable effect.
After a couple of quiet overs, Dhoni decided to move the scoreboard along faster than it was going. Perera (3-0-60-0), unfortunately, was the man at the receiving end, as Dhoni unleashed five huge sixes, one of them going over 100 metres, as 34 runs were taken from the 18th over.
Raina got out in the penultimate over to Steyn, who under the circumstance finished with brilliant figures of 4-0-23-2, but it mattered little as Dhoni just murdered Darren Sammy in the final over, taking him for 19 runs to finish on 63 from 19 balls (1x4, 8x6).
Dhoni's half-century came in just 16 deliveries, the fastest ever in CLT20, with the 34 runs also a tournament record as CSK finished beyond the magical 200-run mark.