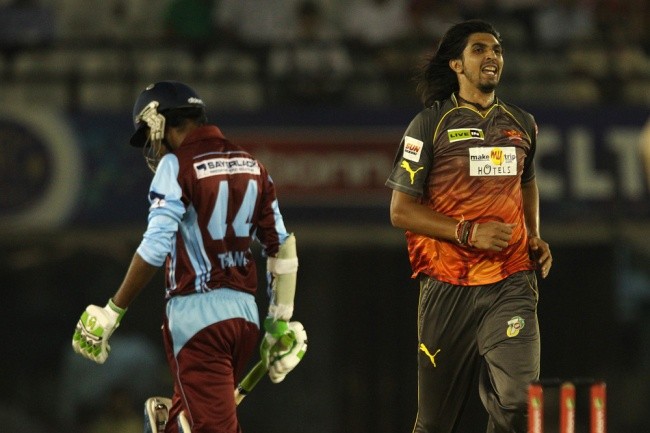 It will be India vs Pakistan with a slight twist when the Sunrisers Hyderabad take on the Faisalabad Wolves in the Champions League T20 qualifier on Wednesday evening.
After the Sunrisers romped home in their first match, the IPL side will look to add a second straight win when they take on Faisalabad.
Faisalabad were pretty poor against Otago and will be knocked out of the tournament if they lose their second straight to the Sunrisers.
Picking up a win won't be easy though with the Hyderabad side impressing in their first match against Kandurata Maroons, with skipper Shikhar Dhawan absolutely dazzling at the top.
The Sunrisers made a target of near 170 look ridiculously easy and if the bowlers find their form against Faisalabad then the Pakistani side could find themselves taking an early flight back home.
Much will depend on their skipper Misbah-ul-Haq, who was the only impressive batsman in the first match against Otago.
"With Misbah, it doesn't matter in what format or at which level he is playing, he has always been his team's backbone," Faisalabad's Khurram Shahzad said. "We all have improved batting under his captaincy and learnt a lot from him.
"He is one man who always carries the team with him and leads from the front. We are extremely lucky to have a leader like him.
"I don't think we are over-dependent on him as a batting side. He has always taught us not to depend too much on any particular player and due to that we have won quite a few matches even without him.
"Hopefully, in the coming matches we will show that we have other players who are capable of winning us matches and you will see that we are a very good team."
If the first matches are anything to go by, then there really only looks like one winner, particularly if Dale Steyn finds his range against Faisalabad, after the South African tyro had a forgettable outing in the game against Kandurata.
Faisalabad struggled with the pace and bounce of the wicket against Otago and will be wary of the threat posed by the likes of Steyn and Ishant Sharma.
Where to watch
The match is scheduled for an 8 p.m. (IST) start with it set to be telecast live on Star Cricket (Hindi commentary), Star Cricket HD and Star Sports. You can catch the official Live Streaming link HERE.
Squads: Sunrisers Hyderabad: Shikhar Dhawan, Parthiv Patel, Cameron White, JP Duminy, Dale Steyn, Biplab Samantray, Thisara Perera, Karan Sharma, Hanuma Vihari, Ashish Reddy, Amit Mishra, Ishant Sharma, Darren Sammy, Anand Rajan, Clint McKay.
Faisalabad Wolves: Misbah-ul-Haq, Asif Ali, Ali Waqas, Khuran Shahzad, Mohammad Salman, Waqas Maqsood, Samiullah Khan, Asad Ali, Saeed Ajmal, Ehsan Adil, Hasan Mahmood, Jahandad Khan, Farrukh Shehzad, Imran Khalid, Ammar Mahmood.
Prediction: The Sunrisers pick up another win as their bowlers also come to the fore.