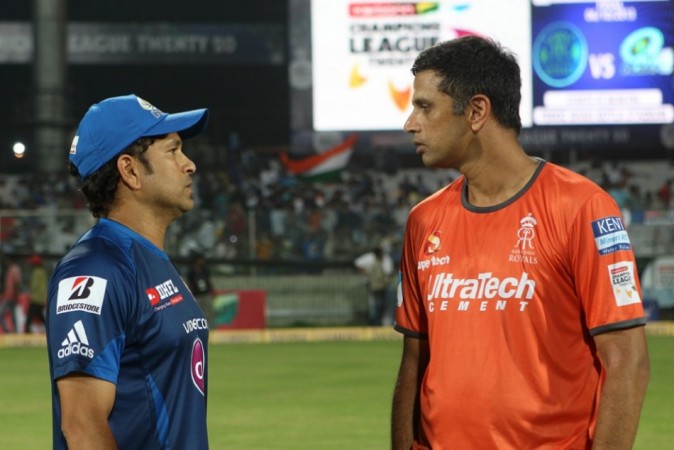 When the Champions League T20 began with a match between the Mumbai Indians and the Rajasthan Royals, there was nice symmetry to it - two absolute legends of the game of cricket, one revered akin to God, and the other respected and loved like he is one of their own, playing their final limited overs tournament.
So, when the tournament headed towards the final stages, there was always that possibility, even hope that these two teams would clash in the final, and how perfect a send-off would that be for Sachin Tendulkar and Rahul Dravid.
It's just a pity that there had to be a winner and loser in the end - in this case Tendulkar's Mumbai Indians taking the honours - because never have there been two better winners and advocates of the sport than Tendulkar and Dravid.
There was a strange symmetry to the way the two got out as well, with their stumps smashed by their respective wicket-takers, when the majority of their cricketing lives have been spent protecting those three sharp wooden sticks.
Both the players received standing ovations when they walked off the pitch after their respective dismissals, with Dravid's walk catching the throat a little more, as it dawned on every single cricket lover that this really was the last and absolute final time one would witness the living legend in action in a competitive match on a cricket ground - Tendulkar still has a little more time left, what with the 200th Test waiting eagerly in the wings.
Dravid of course has been retired from international cricket for a while now, and now the majestic, one-of-a-kind Rolls Royce that rolled into Indian and world cricket's attention in 1996, has been parked permanently.
There will be no more Dravid square drives through the offside, no perfect copybook front-foot defence.
While Dravid has been pretty much the same throughout his career, no-one's career has evolved quite like Tendulkar.
From a tyro who wielded his weapon better than any Greek God, to an artist perfectly aware of his talents and limitations, but capable of painting a canvas so pure and so perfect that you could do nothing, but shake your head with a smile and bow down to the greatness.
Dravid, was always in a sense, what Tendulkar has evolved to become. Now, Tendulkar has parked that Ferrari - flashy and powerful -- that he bought during his teens a while ago for a cool Mercedes - immaculate - before finally trading it for that Rolls Royce - reserved for the special few, who exemplify the word legend.
The Rolls Royce is reaching its final few miles now before being parked next to the now stationary one of Dravid's in a row meant for India's modern-day legends - unparalleled, untouched, unbreakable.