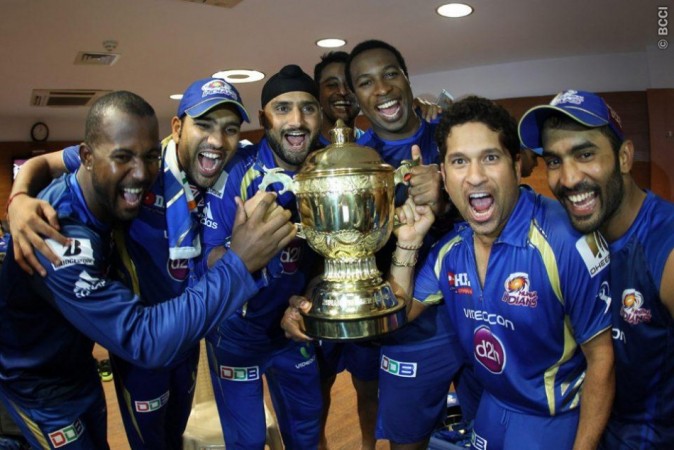 Having completed the qualifiers with Otago Volts and Sunrisers Hyderabad coming out victories, the main draw of the Champions League T20 2013 (CLT20) will begin on Saturday (21 September).
CLT20 is a Twenty20 cricket tournament on the lines of Indian Premier League (IPL) featuring different franchises from cricketing countries. Pakistani team Faisalabad Wolves, and Sri Lankan team Kandurata Maroons could not make it to the main draw after their debacles in the qualifier stage.
The teams are split into two - Group A and Group B - comprising of five teams each. The top two performing teams from each group will qualify for the semi finals, and the winners of semi-finals will head for the title clash on 6 October at Feroz Shah Kotla, Delhi.
Group A: Mumbai Indians (India), Highveld Lions (South Africa), Perth Scorchers (Australia), Rajasthan Royals (India), Otago Volts (New Zealand)
Group B: Chennai Super Kings (India), Titans (South Africa), Brisbane Heat (Australia), Trinidad & Tobago (West Indies), Sunrisers Hyderabad (India)
Group A Team Standings
| | | | | | | | | |
| --- | --- | --- | --- | --- | --- | --- | --- | --- |
| Pos | Team | Matches | Won | Lost | Tied | N/R | Net RR | Points |
| 1 | RR | 4 | 4 | 0 | 0 | 0 | +0.960 | 16 |
| 2 | MI | 4 | 2 | 1 | 0 | 1 | +1.068 | 10 |
| 3 | OT | 4 | 2 | 1 | 0 | 1 | +0.869 | 10 |
| 4 | LIO | 4 | 0 | 3 | 0 | 1 | -0.726 | 2 |
| 5 | SCO | 4 | 0 | 3 | 0 | 1 | -2.851 | 2 |
Group B Team Standings
| | | | | | | | | |
| --- | --- | --- | --- | --- | --- | --- | --- | --- |
| Pos | Team | Matches | Won | Lost | Tied | N/R | Net RR | Points |
| 1 | T&T | 4 | 3 | 1 | 0 | 0 | +0.816 | 12 |
| 2 | CSK | 4 | 3 | 1 | 0 | 0 | +0.271 | 12 |
| 3 | TTN | 4 | 2 | 2 | 0 | 0 | +0.228 | 8 |
| 4 | SRH | 4 | 1 | 2 | 0 | 1 | -0.622 | 6 |
| 5 | BRI | 4 | 0 | 3 | 0 | 1 | -1.028 | 2 |
Champions League T20 2013 Matches Schedule, Time Table & Match Results
| | | | | | |
| --- | --- | --- | --- | --- | --- |
| Day/Date | Time | Match | Teams | Venue | Match Results |
| Sat, 21 Sep | 08:00 pm | Group A Match 1 | Rajasthan Royals vs Mumbai Indians | Sawai Mansingh Stadium, Jaipur | Rajasthan Royals win by 7 wickets |
| Sun, 22 Sep | 04:00 pm | Group B Match 2 | Brisbane Heat vs Trinidad and Tobago | JSCA International Cricket Stadium, Ranchi | Trinidad & Tobago win by 25 runs |
| Sun, 22 Sep | 08:00 pm | Group B Match 3 | Chennai Super Kings vs Titans | JSCA International Cricket Stadium, Ranchi | Chennai Super Kings win by 4 wickets |
| Mon, 23 Sep | 04:00 pm | Group A Match 4 | Highveld Lions vs Perth Scorchers | Sardar Patel Stadium Motera, Ahmedabad | Match abandoned |
| Mon, 23 Sep | 08:00 pm | Group A Match 5 | Mumbai Indians vs Otago Volts | Sardar Patel Stadium Motera, Ahmedabad | Match abandoned |
| Tue, 24 Sep | 04:00 pm | Group B Match 6 | Titans vs Brisbane Heat | Punjab C.A. Stadium, Mohali | Titans win by 4 runs |
| Tue, 24 Sep | 08:00 pm | Group B Match 7 | Trinidad and Tobago vs Sunrisers Hyderabad | Punjab C.A. Stadium, Mohali | SRH win by 4 wickets |
| Wed, 25 Sep | 04:00 pm | Group A Match 8 | Perth Scorchers vs Otago Volts | Sawai Mansingh Stadium, Jaipur | Otago Volts win by 62 runs |
| Wed, 25 Sep | 08:00 pm | Group A Match 9 | Rajasthan Royals vs Highveld Lions | Sawai Mansingh Stadium, Jaipur | RR win by 30 runs |
| Thur, 26 Sep | 08:00 pm | Group B Match 10 | Chennai Super Kings vs Sunrisers Hyderabad | JSCA International Cricket Stadium, Ranchi | CSK win by 12 runs |
| Fri, 27 Sep | 08:00 pm | Group A Match 11 | Mumbai Indians vs Highveld Lions | Sawai Mansingh Stadium, Jaipur | Mumbai Indians win by 7 wickets |
| Sat, 28 Sep | 04:00 pm | Group B Match 12 | Titans vs Sunrisers Hyderabad | JSCA International Cricket Stadium, Ranchi | Titans win by 8 wickets |
| Sat, 28 Sep | 08:00 pm | Group B Match 13 | Chennai Super Kings vs Brisbane Heat | JSCA International Cricket Stadium, Ranchi | CSK win by 8 wickets |
| Sun, 29 Sep | 04:00 pm | Group A Match 14 | Highveld Lions vs Otago Volts | Sawai Mansingh Stadium, Jaipur | Otaga Volts win Super Over |
| Sun, 29 Sep | 08:00 pm | Group A Match 15 | Rajasthan Royals vs Perth Scorchers | Sawai Mansingh Stadium, Jaipur | RR win by 9 wickets |
| Mon, 30 Sep | 04:00 pm | Group B Match 16 | Titans vs Trinidad and Tobago | Sardar Patel Stadium Motera, Ahmedabad | T&T win by 6 runs (D/L method) |
| Mon, 30 Sep | 08:00 pm | Group B Match 17 | Brisbane Heat vs Sunrisers Hyderabad | Sardar Patel Stadium Motera, Ahmedabad | Match abandoned |
| Tue, 01 Oct | 08:00 pm | Group A Match 18 | Rajasthan Royals vs Otago Volts | Sawai Mansingh Stadium, Jaipur | RR win by 4 wickets |
| Wed, 02 Oct | 04:00 pm | Group A Match 19 | Perth Scorchers vs Mumbai Indians | Feroz Shah Kotla, Delhi | Mumbai Indians win by 6 wickets |
| Wed, 02 Oct | 08:00 pm | Group B Match 20 | Chennai Super Kings vs Trinidad and Tobago | Feroz Shah Kotla, Delhi | T&T win by 8 wickets |
| Fri, 04 Oct | 08:00 pm | 1st Semi Final | Rajasthan Royals vs Chennai Super Kings | Sawai Mansingh Stadium, Jaipur | RR win by 14 runs |
| Sat, 05 Oct | 08:00 pm | 2nd Semi Final | Mumbai Indians vs Trinidad & Tobago | Feroz Shah Kotla, Delhi | MI win by 6 wickets |
| Sun, 06 Oct | 08:00 pm | Final | Rajasthan Royals vs Mumbai Indians | Feroz Shah Kotla, Delhi | MI win by 33 runs |