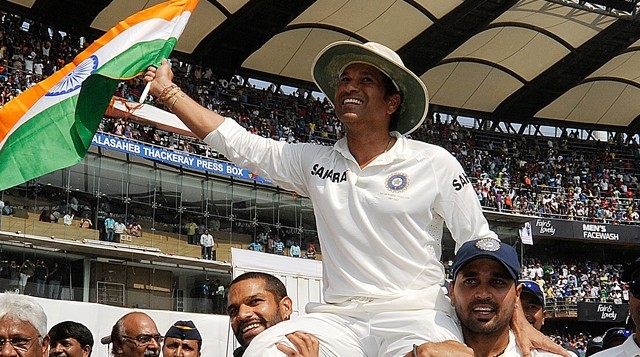 The Decision Review System (DRS) has been one of the most debated topics in cricket since its inception. One cricketing country - India -- has stood firm against it pretty much from the beginning , but West Indies legend Clive Lloyd believes it just might be time for the BCCI to embrace the system.
The DRS was not employed during the India-West Indies series, Sachin Tendulkar's farewell series, and had the method been there, then for all you know Tendulkar might have just got his 52nd Test hundred in his 199th five-day match in Kolkata.
However, BCCI is adamant about not using the DRS in a series involving India, but Lloyd feels the ICC needs to make the system mandatory.
"I think DRS should be applicable throughout the world," said Lloyd during a trip to Pune to visit the Blades of Glory museum. "India can probably play under DRS even if they don't like it. The absence of DRS catches an umpire off guard when he comes to India after officiating in five series with DRS. The system needs a serious look."
Lloyd also said he would like to see the third umpire become more involved in the game, and make the decisions which the on-field umpires might have missed.
"I had a chat with [Anil] Kumble the other day and we felt that the third umpire could be much more involved in the game," added Lloyd, who donated his sweater and Test cap to the museum. "If he sees someone who has hit the ball and hasn't walked, he should intervene. Nobody walks anymore. We could have a better game and the better team would always win."
Tendulkar retired, following 24 years of stellar service to India, after the second Test match against the West Indies in Mumbai, and Lloyd praised the Little Master's incredible career.
"Sachin started at 17 and played for 24 years," he said. "I don't think anyone can play for these many years in the current era."
Lloyd's side the West Indies had a rather forgettable two Test matches in India, losing both by an innings and the former captain, who was a big part of WI's glory days, was far from amused. "I think we looked drunk during the Test series," he said when asked if West Indies were suffering from a T20 hangover.
"It was not very good. We had India at 83/5 in the first Test, but didn't have the bowlers to put more pressure. This team doesn't have the right kind of balance. They need to improve in all aspects of the game."
The cricketing great also touched upon the WADA "whereabouts" clause, saying he was definitely for any formula to stop athletes from taking drugs.
"If it's going to get out of hand and people are going to take drugs, then you got to be serious about that," he said. "It's not just about taking drugs, you are destroying your body and then you are trying to influence other players. It is something that needs to be taken seriously, just like match fixing or so. Drugs in sport for me are a complete no no."