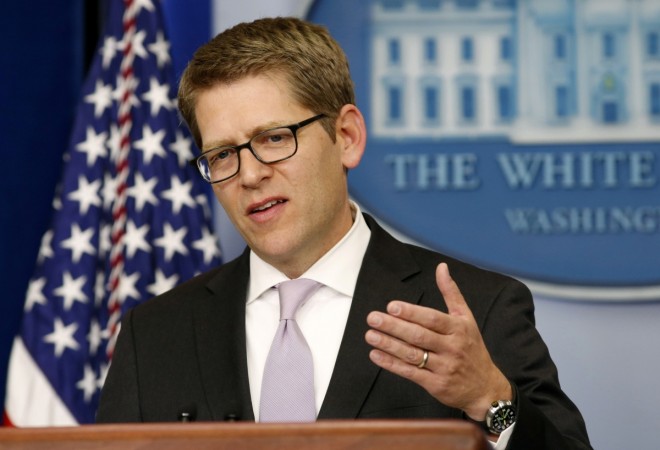 Jay Carney, the chief White House spokesman who has been working for President Barack Obama for the past three and half years, is stepping down, the US president said in a surprise announcement on Friday.
Obama interrupted the spokesman's daily briefing to announce the "bittersweet" news that he would be replaced by Josh Earnest, who is the principal deputy press secretary.
In remarks to the press in the White House briefing room, Obama called Carney one of his closest advisers and friends at the White House.
"In April, Jay came to me in the Oval Office and said that he was thinking of moving on, and I was not thrilled, to say the least," he said. "But Jay has had to wrestle with this decision for quite some time."
"I will continue to rely on him as a friend and an adviser after he leaves to spend as much of his summer as he can with his kids before he decides what's next for him" he said adding: "Whatever it is, I know he's going to be outstanding at it."
Carney has occupied one of the most high-profile jobs at the White house, appearing at the podium almost every day and engaging in combative exchanges with reporters – many of whom have criticized him for being evasive in more occasions than few.
A former Time magazine reporter who covered the White House, Carney was not considered to be the best of appointments when he was installed in place of Obama's previous press secretary, Robert Gibbs in 2011. While engaging with journalists he often referred to his previous experience as a journalist. He joined the White House as communications director for Vice President Joe Biden.
"He comes to this lace with a reporter's perspective," Obama told reporters in the briefing room on Friday. "That's why, believe it or not, I think he will miss hanging out with you."
Even as Carney – who has been the face of the voice emanating from White House – and Obama seemed to try their best in giving an impression that the decision was mutual and the White House was indeed letting Carney move on in life. But speculations soon started flowing on whether White House's decision was politically motivated.
Matt Drugde was quick, for example, to link the news with his own headline that said in bold, "OBAMA CLEANS HOUSE".
Escaping questions was virtually Carney's job description while the man was criticised for being particularly evasive on questions posed. During his tenure there was also growing tensions between the West Wing and the White House correspondents association on reported cases of denying reporters access to the press room.
Photographers have expressed concerns in particular over the growing White House Practice of allowing only its own official photographer to work on special events.