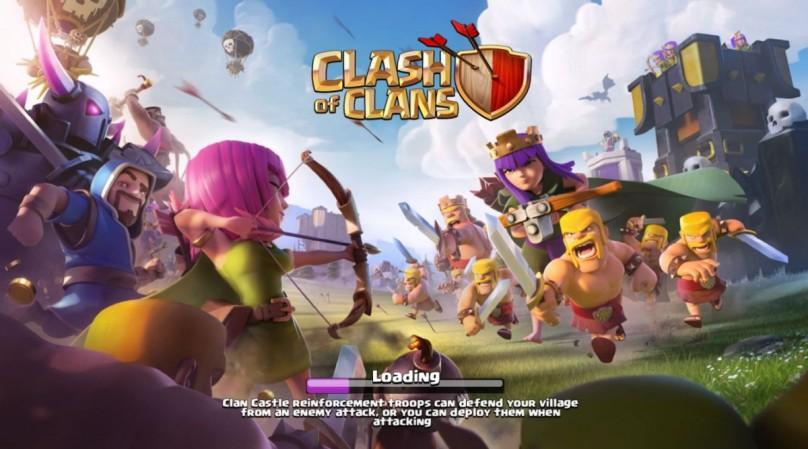 The popular tower defence video game, Clash of Clans, recently received a huge new December update -- the Town Hall 11 -- from its developer Supercell.
The developer billed this update as its "biggest update", adding that it is "humongously epic sized". The update went live on 10 December.
The release was preceded by several sneak peeks, introducing the players to this new update. Supercell has also released a complete guide and FAQ list about the update that sees the addition of new Hero Grand Warden, new defence Eagle Artillery, new levels for Minions and Witch and many more.
Below you will find everything you need to know about the Town Hall 11 update from Supercell:
Bite Sized Guide
New Hero for Town Hall 11 â€" the Grand Warden: for air or ground, offense and defense, he is a most worthy addition to your arsenal!
New defense â€" Eagle Artillery: rain feathery death from above! Caw!
Extra defence buildings at Town Hall 11: Cannon, Archer Tower, Wizard Tower, X-Bow
New levels for: Laboratory, Wizard Tower, Gold Storage and Elixir storage
New upgrade levels for: Minions and Witch
League bonus awards now depend on destruction percentage: big wins, big bonuses!
Clan donations: request a dark spell
Longer battles: an additional 30 seconds to pillage other players!
Freeze Spell unlocks at Town Hall 9, and lasts longer than before at all levels
20% more space in your village â€" get all your pretty decorations out now!
Boost time and cost halved for army buildings and Heroes (1h/5 gems)
Rearm your traps for less!
Town Hall level 11 itself!
Major Shield Tweaks
30% destruction gives 12 hours, 60% gives 14h and 90% gives 16 whole hours
Players can attack while shielded. However, doing so will shorten your remaining shield time
Destroying the Town Hall will NOT provide an automatic shield
Attacker must use at least 1/3 of a full army to trigger the defender's shield
We've added the Village Guard â€" like a mini-shield to protect your village from attacks when you leave the game or have just defended without gaining a shield - or you can buy it for gems
A Guide to Village Guards
Village Guard will prevent attacks on the village for a short duration, this could be from 15 minutes to three hours, based on the player's League level. But those who are unranked will also get a 15-minute guard.
The Guard will be available after the shield has ended and he will take out a player's village out of matchmaking, even as the player is raiding. The Guard is not like the Shield that gets shorter with every attack.
Below are three ways to activate a Village Guard:
Purchase a 2-hour Village Guard for a very low cost via the in-game shop (23h cooldown).
An automatic Village Guard will activate after your Shield expires (time based off Trophy League).
Every defense that does not result in a Shield will trigger a 15 minute Village Guard.
A Guide to Shield working
When the players exit the game, the Village Guard will end with it; thus, letting the village open to attacks. If they do not want this to happen, they can use Shield to protect their village.
When a player stars a game, he/she will get a three day Shield that will protect them and lets them prepare. Following this, they will either have to buy Shields for games or at in-game shop. They can also utilise the shields that are activated when the village is badly ravaged. Such a Shield will be active for the next 12, 14 or 16 hours.
The will get automatically activated if an attacker deploys 1/3 of the full army. However, Shields can be purchased as well and it will last for 1, 3 or 7 days. Once a player buys a particular kind of shield, he cannot use it in the cooldown period that follows the buy. This period could vary between 5, 10 and 35 days.
The players can attack other using the Revenge button, even when the Shield is active, but this will result in reduction of the remaining Shield time. The time-cost of attacking with a Shield is 3 hours for the first attack and gradually rises from there.
Difference between Shield and a Village Guard
There are at least six differences between Shield and a Village Guard, even though both of them perform he role of a protector:
Village Guard
Short intervals (15 mins to 3 hrs)
Useable while Shield is inactive
Can be purchased every day (23-hour cooldown)
Active guard counts toward your Personal Break timer
Attacking while it's active will not cost Village Guard time
Duration depends on Trophy League
Shield
Long intervals (12 hrs to 7 days)
Useable anytime, but buying a Shield cancels an active Village Guard
Requires a longer cooldown after purchasing (5-35 days)
Does not add to Personal Break timer
Attacking while Shielded costs Shield time
Duration is consistent for every Clasher
A Guide to Personal Breaks
Each player in Clash of Clans will get three house of playing time and followed by a six minute Personal Break (PB), which gives other players a chance to attack.
Here is how PB timer is rest:
Getting any Shield resets your PB timer
Staying offline (without a Village Guard/Shield) will reset the PB timer
Buying a 2-hour Village Guard (10 gems) will add 2 hours to your PB timer
Village Guard time is always considered online (play) time -- regardless of whether you're actually in the game or doing something else
The players can also follow a three-stage rule:
Stage 1 After 3 hours of playtime, a player is given a 6-minute PB. During this offline period, if a player
a) Does not get attacked, or
b) Is attacked but does not get a Shield,
they will receive another 15 minutes of playing time (and a Village Guard).
Stage 2 When those 15 minutes run out, the player player gets kicked out for another 6-minute PB.
Like Stage 1, if during this period the player
a) Does not get attacked, or
b) Is attacked but does not get a Shield,
they will receive another 15 minutes of playing time (and a Village Guard).
Stage 3 When that second period of 15 minutes runs out, the player player gets kicked out for a third and final 6-minute PB.
If during this period the player
a) Does not get attacked, or
b) Is attacked but does not get a Shield
they receive a league-based Village Guard (15min to 3hrs) and the PB timer is fully reset.
No Shield granted even if the defence was lost? (FAQ)
Shields have been operating differently since the new update:
Town Hall destruction no longer grants a shield for the defender; bring your Town Hall inside! At least 30% of destruction is necessary to get a shield, and the attacker needs to deploy enough troops.
To compensate, you can now attack while shielded -- it will not break the entire shield, but instead deduct a small amount of it. Think of your Shield as a resource.
No Loot from Town Hall/Clan Castle(FAQ)
The players need to note that they are not guaranteed of loot. Town Halls only store the loot that has been collected and Clan Castle that of War Win Bonuses.
To get any of the loot in a Town Hall or Clan Castle, you need to destroy it completely
Town Halls and Clan Castles are not immune to damaging spells, which means you can use Earthquake or Lightning Spells to bring them down faster
Kinds of Shield after a defence(FAQ)
Losing defences does not guarantee a Shield and those who do not get a Shield after the defeat players are blessed with a Village Guard for 15 minutes to 3 hours depending on the League level.
The Shield's length depends on the destruction percentage that was sustained by the player:
A 12-hour shield is granted at 30% destruction
A 14-hour shield is granted at 60% destruction
A 16-hour shield is granted at 90% destruction
However, NO SHIELD is granted if the attacker does not deploy at least 33% of a full army, based on the Town Hall level of the defender
Town Hall and Clan Loot â€" An Explanation
Town Halls can store more loot after the new update, which is equal to roughly 1 Gold, 1 Elixir and a maximum of 20% of Dark Elixir storages. The amount of lootable resources available will depend on the Defender's Town Hall level. So, if a player has higher Town Hall, then expect more resources to be stored.
Goblins will be dealing double damages to Town Hall and Clan Castle with only two difference:
Both the Town Hall and Clan Castle must be FULLY destroyed to reward resources
They are not immune to spells.
Army Boosts, duration and cost is down by 50%
Note that the players can boost their heroes and army building for one hour, but will cost them five gems, previously it was costing them 10 gems for two hours.
The boost will increase production speed by 4X of buildings like Barracks, Dark Barracks, Spell Factory and Dark Spell Factory. The healing rate of any Hero can be quadrupled using gems.
Increase in Village Size
The new Town Hall 11 update has increased the size of the village by 20%. Without interfering in the current village layout of a player, Supercell added to the outer edges of the usable village area.
The obstacles that would have been outside the area will stayed there and those that were on the usable map area will move inwards.
Reduction in Healing effect of multiple Healers
This update will see reduction in the healing effect of multiple Healers. "The stacking effect of multiple Healers begins to drop after 4 Healers, and plummets quite dramatically after 6 Healers," Supecell noted.
Preparation Day in Clan Wars reduced
The preparation day for Clan Wars has been reduced to 23 hours, thus cutting short the wait for the Battle Day action. The update will also let clans declare Clan Wars at the same hour every two days.