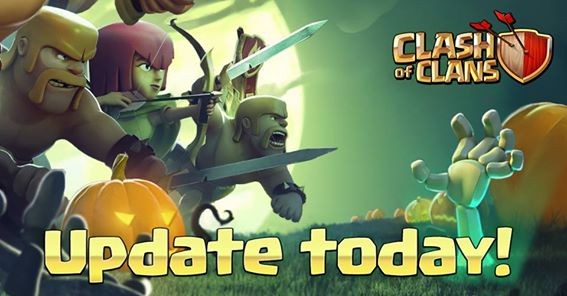 Supercell's Halloween update for Clash of Clans has hit the right notes with its players. Congratulatory messages have flooded the Clash of Clans official Facebook page, with many being impressed with the increased War Loot and the loading screen. The Halloween update has since gone live.
Supercell also shared details on the League bonus and War Loot. Below are the details:
· Get at least 20% more Gold, Elixir and Dark Elixir from Clan Wars
· Keep more of your war loot even if your Clan doesn't win the Clan War
· Store more war loot in your Clan Castle
· Get a bigger League bonus from winning multiplayer battles in all Leagues
Supercell has also given out a spoiler to one of the fans saying that there will be new loading screen image for the Holiday season. "Just between you and me, there might be a new loading screen image coming for the Holiday season." When another fan asked if the developer could add "boss/special battle," it said, "That's a very interesting idea! Let's see what the next Halloween brings."
Before Supercell released the update, it released a series of Sneak Peek videos that let players know what was coming for them. The new Halloween update adds Halloween themed items into the game. Some of the features include Skeleton Traps, Halloween Headstone and 1-gem Spell Factory boost, new Clan Search, Boost, Clan Setting and interface upgrades.
Clash of Clans is a strategy game for mobile devices on Android and Apple.
The developer also shared the changes in the League bonuses. Below is the complete compilation of all League Bonuses (Supercell Forums):
Old Bonus
Bronze III - 400 Gold and Elixir
Bronze II - 500 Gold and Elixir
Bronze I - 800 Gold and Elixir
Silver III - 1.3k Gold and Elixir
Silver II - 2k Gold and Elixir
Silver I - 3.3k Gold and Elixir
Gold III - 5.2k Gold and Elixir
Gold II -8.4k Gold and Elixir
Gold I - 13k Gold and Elixir
Crystal III - 21k Gold and Elixir, 50 DE
Crystal II - 34k Gold and Elixir, 100 DE
Crystal I - 55k Gold and Elixir, 200 DE
Master III - 75k Gold and Elixir, 400 DE
Master II - 90k Gold and Elixir, 500 DE
Master I - 100k Gold and Elixir, 600 DE
Champion - 120k Gold and Elixir, 800 DE
New Bonus
Bronze III - 600 Gold and Elixir
Bronze II - 800 Gold and Elixir
Bronze I - 1k Gold and Elixir
Silver IIT - 2k Gold and Elixir
Silver II -
Silver I - 4k Gold and Elixir
Gold III - 8k Gold and Elixir
Gold II - 11k Gold and Elixir
Gold I - 14k Gold and Elixir
Crystal III - 35k Gold and Elixir, 100 DE
Crystal II - 50k Gold and Elixir, 200 DE
Crystal I - 65k Gold and Elixir, 300 DE
Master III - 100k Gold and Elixir, 500 DE
Master II - 120k Gold and Elixir, 700 DE
Master I - 140k Gold and Elixir, 900 DE
Champion - 180k Gold and Elixir, 1200 DE
Below is the full review of the Halloween Update:
(YouTube Courtesy: Teach Boom Beach - nickatnyte)