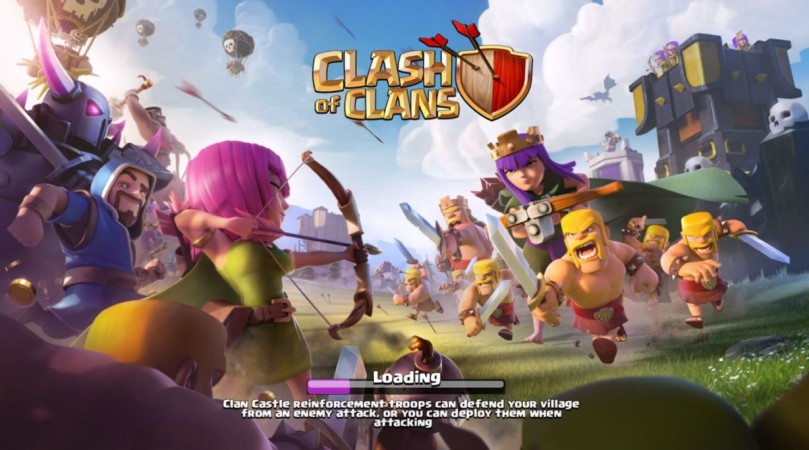 Clash of Clans, the popular tower defence mobile video game from developer Supercell, has received a new January update that adds Treasury, Loot Cart and Start Bonus to the game.
This update adds a resource bank called Treasury to the Clans Castle, where the bonus loot is safely guarded. The capacity of the Treasury will be decided based on Town Hall and Clan Perks levels.
If the players are able to grab five stars from the multiplayer battles, they will earn bonus loot and higher the Leagues, bigger the bonuses. The Star Bonus will be available every day.
Every defence will fetch players a Loot Cart (in the Village). Collecting it will add some of the lost resources back to the base.
The update will add some gameplay balancing regarding The Eagle Artillery and Second Air Defense, which will be unlocking at Town Hall 6. The update also brings bug fixes that have been an irritation to players.
This new update follows the hugely successful December update or the Town Hall 11 update that saw the expansion of Clash of Clans with new Heroes, new defences, addition of Guard, changes in shield, gameplay balancing and other improvements.
The Treasury
Clan Castles now house a well-protected resource bank: the Treasury
The Treasury safeguards bonus loot from Clan Wars and Star Bonuses
It's the safest place to save up bonus loot until you are ready to spend it!
The previous concept of "War Loot Storage" has been removed from the Clan Castle info screen, etc.
Treasury capacity is determined by Town Hall and Clan Perks levels. Clan Castle level has no effect
Clan Perks for "War loot extra storage" have been changed to "Treasury extra storage" (Clan Perk values are unchanged, Treasury storage is similar to War Loot storage at most Town Hall levels)
Clan Castle visuals have been updated with the removal of the small storages on the roof
Daily Star Bonus
Win 5 stars from multiplayer battles to earn bonus loot
Earn bigger bonuses at higher Leagues!
A new Star Bonus is available every day!
Star Bonus rewards are safeguarded in the Treasury
The maximum Star Bonus reward is available starting at Titan 3 League (Was Champion 3)
Loot Cart
A broken down Loot Cart appears in your Village after every defence
Collect this cart to recover some of your lost resources
Only one Loot Cart will appear at a time, so collect it right away!
The Loot Cart appears randomly in the area village after any defence and it contains 20% of the lost resources
If a Loot Cart is already spawned, its Gold, Elixir and/or Dark Elixir values will update if a subsequent defence would be worth more of that resource
A Loot Cart cannot be collected if your storages are full
Balancing
The Eagle Artillery now deals 3x damage to Golems and Golemites
Second Air Defence unlocks now at Town Hall 6, third at Town Hall 7
Bug fixes
Cases where Skeletons would get stuck in layers of walls especially when chasing Hog Riders are now fixed;
Instances where multiple Dark Spells could be donated to Clan Castle are now fixed. Only one Spell can be donated.
In some rare cases, players would start an upgrade and then go idle for a longer period of time, and upon returning to the game that same upgrade would wrongly show 20+ days left; this issue has now been addressed.